Elegant Makeup Ideas If Your Favorite Color Is Green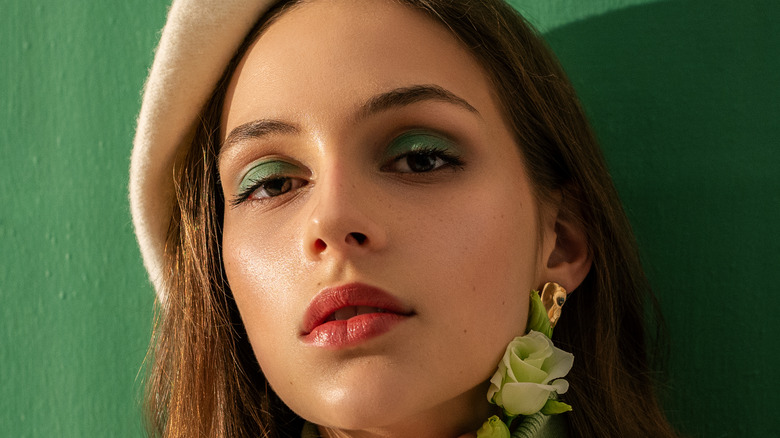 Victoria Chudinova/Shutterstock
The world is filled with beautiful colors everywhere you look. According to Impact Plus, colors tend to have a powerful impact on people's behavior and decision-making. Marketing psychologists have used the power of colors for years to influence people to purchase specific items. Green is a commanding color that reminds you of growth, and it typically signifies abundance and security. It's easy to be drawn to green because it's a refreshing color that can calm you with ease. 
Recently, Allure called the color green the biggest makeup trend of 2022 because Gen-Z green is officially taking over. Makeup artist Katie Jane Hughes attributes the color's popularity to high-end brands like Bottega Veneta because, "They've made this Kelly green color extremely trendy in fashion" (via Allure). Green can range from bold emeralds to subdued olives and bright fluorescents, and it's one color that looks gorgeous on everyone (per Tabatha Dumas). 
You may want to stick to neutrals when it comes to makeup, but green makeup, like the latest eyeshadow palette from Urban Decay, is making a big splash. From the red carpet to Instagram, you'll see green looks showing up more often. It might not be the first color that comes to mind when you think of makeup, but according to Byrdie, adding a hint of green shows your creativity and makes your whole look pop. It's an unexpected choice, but it can take center stage due to its many variations. 
These makeup ideas will make others turn green with envy — in a good way!
Gorgeous green makeup ideas to flatter everyone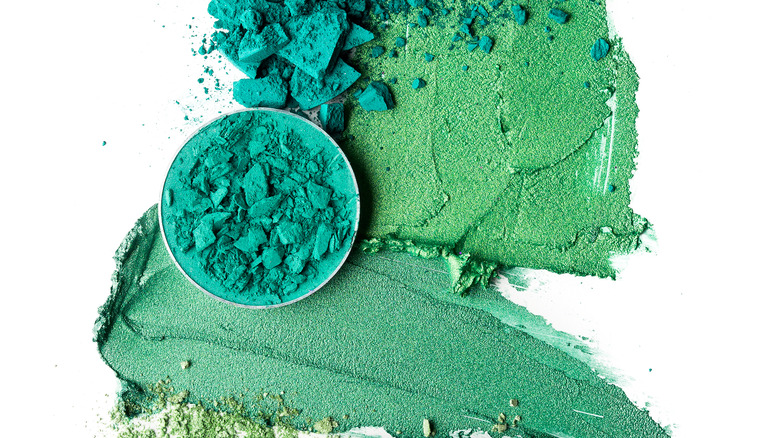 Fischer Fotostudio/Shutterstock
If your favorite color is green, you don't need to single it out just for holidays like Christmas and New Year's. Whether you're matching your makeup to your green outfit, or letting it stand out on its own, you can rock green year-round with these amazing makeup ideas.
Makeup artist Lisa Eldridge recommends trying emerald eyeshadow, particularly in jewel tones, on your entire lid. The regal shade enhances every eye color and flatters all skin tones, and you're straying from the typical smoky idea with a pop of color that catches the light perfectly (via Byrdie). Add a bit of gold eyeshadow in the corner of your eyes to make them look bigger and brighter. If you prefer something more subtle, recreate the smoky look with deeper shades of green. Top Inspired loves using green tone shadows on your upper lids and lower lash line because darker shades can look radiant against the white of your eyes. This is especially true if you have brown eyes.
To choose the ideal shade of green, makeup artist Danessa Myricks recommends gold-based greens for hazel eyes and richer hunter green makeup for blue eyes (via Allure). Once you've found your ideal green, create a cat-eye look with green eyeliner, or use a grassy hue to line your waterline. You don't need to wait for St. Patrick's Day to rock green makeup!