Here's How You Can Smell As Good As Audrey Hepburn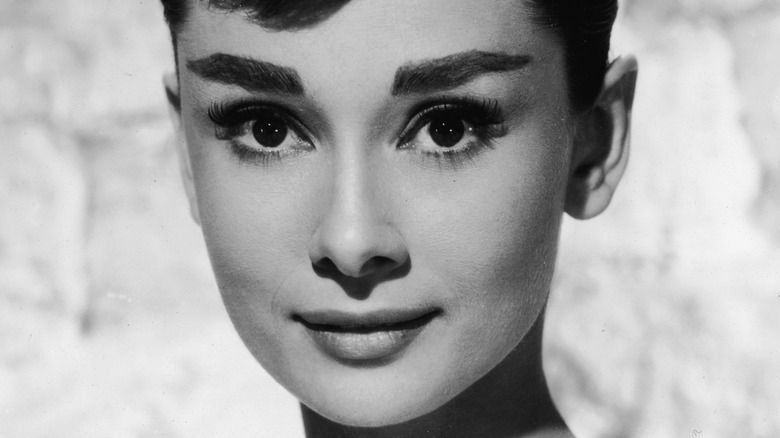 Hulton Archive/Getty Images
There are plenty of iconic aspects surrounding Audrey Hepburn. From her little black dress, to her sunglasses, to her pearls — everything she did was ultimately turned into a sartorial masterpiece. The same goes for her signature smell. Although it couldn't jump out from the screen like her style could, Hepburn had a particular perfume created specifically for her. In fact, the name itself proves that it was, quite literally, made for her. Thankfully for all of us, though, her special perfume is actually available for purchase. According to TikTok creator Brittany Cale, Hepburn's signature scent is sold at Sephora right now. What a time to be alive!
If you're looking to carry a little elegance, sophistication, and history with you at all times, look no further than Hepburn's signature scent. According to Cale, who is known for revealing on-screen beauty items, like the lipstick Molly Ringwald wore in "The Breakfast Club," Hepburn's specialty perfume was Givenchy's L'Interdit Eau de Parfum. 
"Givenchy released this perfume in 1957 after Audrey Hepburn commissioned Hubert de Givenchy to make a signature scent for her, and the result was L'Interdit Eau de Parfum," the TikTok creator (aka beauty historian) says in her viral video. It turns out the name actually means "the forbidden," because Hepburn said that it was forbidden for anyone to wear this perfume but her. Despite the name, it was eventually released to the public and then discontinued a few years later. 
Now, the perfume is ready for its revival.
Audrey Hepburn's signature scent is sold at Sephora
If ever there was an iconic place to hold a star's signature scent, it would be Sephora. As it turns out, that's exactly where you can buy Givenchy's L'Interdit Eau de Parfum. For a cool $99, you can smell exactly like Audrey Hepburn. Doesn't that sound like a dream come true? There's also a sample available for $36 if you're not committed to the fragrance from the history alone.
According to Brittany Cale, the perfume was relaunched in 2018 but isn't quite the same as it was when Hepburn wore it (via TikTok). "While this perfume has the exact same name, it doesn't really smell the same," Cale says in the video. "They decided to release it as a more modern take, and it has a more, like, fruity sweet scent than the original." 
The Sephora website names these fruity sweet notes as orange blossom, jasmine, and patchouli. The scent change hasn't stopped this perfume from receiving incredible reviews through Sephora. People are obsessed with this perfume — not just because it's history on your bathroom counter, but also because of its beautiful smell. Now, go get this historical, sweet smelling perfume for yourself!