The Strange Hobby That Made Anna Faris And Chris Pratt Soul Mates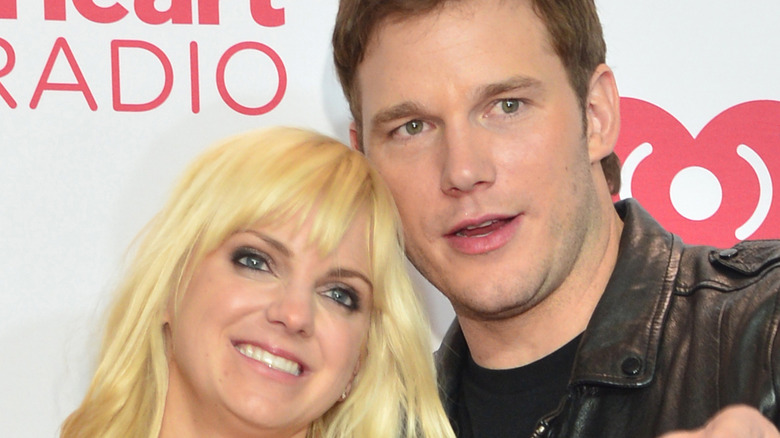 Kobby Dagan/Shutterstock
You never quite know what's going to attract someone to another. Sure, good looks, confidence, and having a vibrant personality definitely help, but often it's the shared interests that help two people form a bond. This was the case for Anna Faris and Chris Pratt.
Though now divorced, the couple had a nearly decade-long marriage from 2009 to 2018 (via Insider). They share a son Jack, who was born prematurely in 2012. Jack arrived 9 weeks early and was 3 pounds 12 ounces at birth. It was a stressful time, but they stayed in the marriage for four more years.
Jack was four years old when Faris and Pratt announced their separation via Instagram: "We are sad to announce we are legally separating. We tried hard for a long time, and we're really disappointed. Our son has two parents who love him very much and for his sake we want to keep this situation as private as possible moving forward. We still have love for each other, will always cherish our time together and continue to have the deepest respect for one another." Fans were shocked since Faris and Pratt appeared to be so happy together and there weren't any outward signs of trouble.
Anna Faris and Chris Pratt bonded early on over this odd shared pastime
In 2015, Anna Faris appeared on the "James Corden Show" and shared a story about when she first began dating Chris Pratt. She explained that she has always been fascinated by dead bugs and owned a dead bug collection, making a point to say the bugs were humanely harvested. This unique hobby goes back to her childhood roots in Washington State.
She said that while out on a date with Pratt, she went back to his apartment, "When Chris and I first started dating, he invited me over to his apartment and he had, also, a dead big collection."
When a surprised Corden replied, "Wow, what are the chances?" Faris chimed in, "I know! That's how I felt! So much so that I started to cry ... I've met the man of my dreams. We both have dead bug collections."
Faris and Pratt went on to remarry, she married cinematographer Michael Barrett in 2021 (via SheKnows). Pratt married Katherine Schwarzenegger in 2019 (via USA Today). No word on if either of them retains a dead bug collection.