Maks Chmerkovskiy Reunites With His Wife In Video Guaranteed To Make You Cry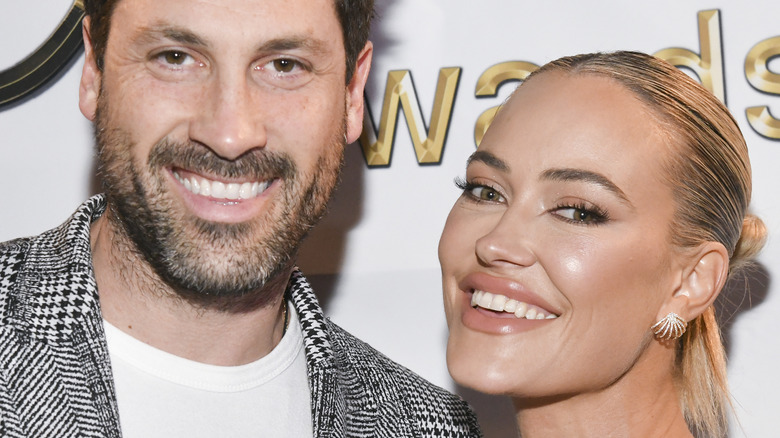 Rodin Eckenroth/Getty Images
"Dancing With the Stars" pro Maks Chmerkovskiy has been one of the prominent voices coming out of Ukraine, chronicling the Russian invasion with unfiltered photos and video via his Instagram. Meanwhile, his wife, fellow "DWTS" pro Peta Murgatroyd pleaded for his safe return from the country on her own social media, writing in part, "Please pray for my husband Maks." She added, "My pain is overwhelming and I'm struggling."
Thankfully, Chmerkovskiy, who previously bashed Kirstie Alley's tone-deaf posts about the conflict, shared he had made it safely out of the war-torn nation, and was back with his family in Los Angeles (via Us Weekly). The sweet moment the two stars first embraced after being apart was captured in a video posted to Twitter by Entertainment Tonight. And yes, you will cry when you see the love between the couple.
In the short clip, we see Chmerkovskiy and Murgatroyd run toward one another in the terminal at LAX, hug and then not let go. They then kiss through their face masks and embrace again. It's a very emotional reunion that captures just how much stress the stars must have been under while he was in Ukraine.
Maks Chmerkovskiy struggled to leave Ukraine
Chmerkovskiy admitted that he felt "guilt" about leaving Ukraine after witnessing a lot of extremely difficult things and will need "therapy" to deal with the trauma (via People). The choreographer also detailed the challenging circumstances under which he fled the country, explaining in a video posted to Instagram, ​​"When the train car got packed and packed and it kept getting more and more packed, I was like, hold on. I'm thinking to myself there's no air. There's no way that we can travel [this way]." The star added he stood on the train for hours.
In the meantime, Murgatroyd made it clear on her Instagram that she was having a very hard time waiting for her husband to come back to the U.S. "I cannot wait to be with you again," she wrote in a caption to a post featuring a photo of herself with her husband and their son, Shai. In another post, the dancer wrote in part, "I'm going through hell right now and I want it all to end..." But she added, "there is light that shines through the darkness." Murgatroyd then shared that strangers had baked her cookies, writing, "I'm already emotional and these acts of kindness push me over the edge."