Amy Schumer Gets Candid About Her Son's Development And Autism Likelihood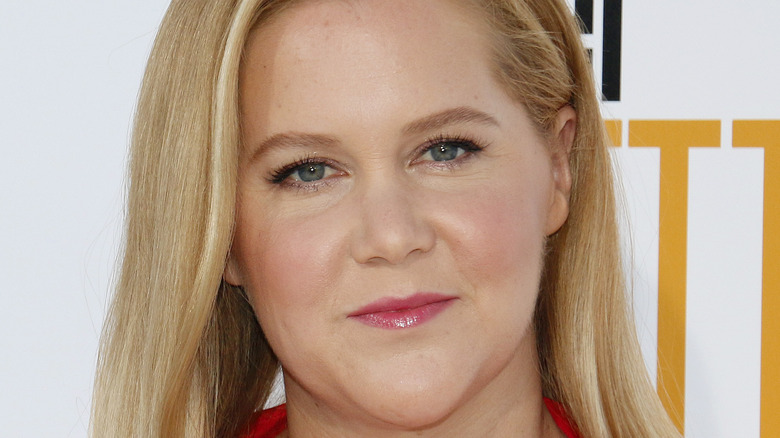 Tinseltown/Shutterstock
Amy Schumer had a difficult path to motherhood. Though she gave birth to her first child, a son named Gene, in May 2019 with her husband, Chris Fischer, Schumer revealed just how difficult her pregnancy with Gene was during an appearance on Anna Faris' podcast, "Unqualified." On the podcast, Schumer revealed that she had developed hyperemesis, a condition characterized by excessive vomiting and weight loss that often requires medical intervention, per the National Health Service, during her pregnancy. "One in three mothers with hyperemesis, what I had, one in three babies don't make it. So I really don't like those odds. Just because you're vomiting so much you can't nourish your baby or yourself, so my pregnancy was a huge bummer," Schumer said on the podcast, according to Yahoo! Life.
After giving birth to Gene, Schumer tried to conceive another baby through IVF, though that journey, which was documented on her social media, was also difficult. As Schumer detailed on Chelsea Handler's iHeartRadio podcast, "Dear Chelsea," Schumer's IVF journey left her with only one embryo. Then, the couple attempted to get pregnant again and it didn't work, and thus their IVF journey had come to a sad conclusion, and Schumer decided that she would stop trying to have more children. "So we're gonna have just one child and we're just enjoying our little family and I'm just focusing on that. I'm excited about it but I was sad," Schumer said on the podcast, as People reported.
Schumer reveals that it is likely that her son is on the autism spectrum
During her Netflix special, "Growing," back in 2019, comedian Amy Schumer revealed that her husband, chef Chris Fischer, had recently been diagnosed with autism spectrum disorder as an adult. She made it clear that all of the qualities that he possessed "that make it clear that he's on the spectrum are all of the reasons I fell madly in love with him," per People. On Chelsea Handler's podcast, "Dear Chelsea," Schumer discussed the probability that her 2-year-old son, Gene, would be diagnosed with autism spectrum disorder at some point in his life as well. "I think the statistics are pretty strong toward he will most likely have autism," Schumer said on the podcast, according to People. "Parents have different journeys with this. Having a child with severe autism is beyond my imagination difficult. But if Gene does wind up having ASD, I'm not looking for the signs in a way that are upsetting, I'm not hoping either way."
A 2019 study published in JAMA Psychiatry found that there is an 80% risk of passing autism genetically, as compared to developing autism through environmental factors or random mutations in the genes. According to the Centers for Disease Control and Prevention, autism spectrum disorder can be diagnosed in a child as young as 18 months old. At 2 years old, a diagnosis of autism spectrum disorder is considered to be incredibly reliable.