Here's Why Purple Lipstick Is The Perfect Retro Choice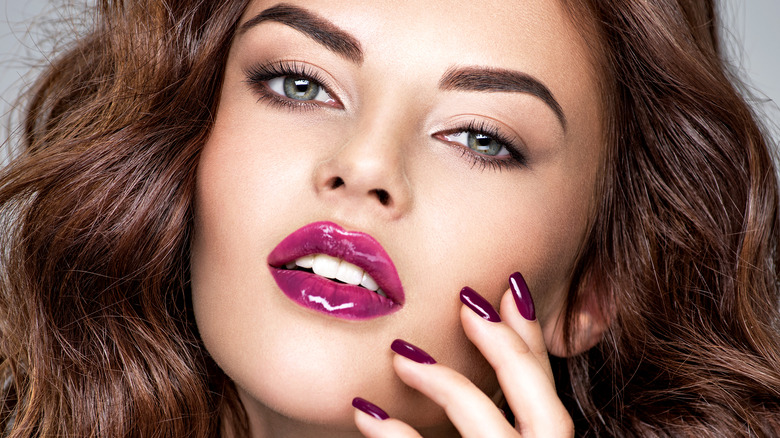 VALUA VITALY/Shutterstock
Have you found yourself stuck in the same old boring beauty routine, or maybe you're going to a retro party and don't know what lipstick shade to wear? Perhaps you don't want the classic red, innocent pink, or unassuming nude you've grown accustomed to wearing. Maybe you simply want to feel a bit more bold and daring. Purple lipstick may be just the choice you're looking for, whether it's a deep eggplant or a bright berry hue. Deep lip shades were one of the best makeup trends of 2021.
Not much will give you more of a retro diva glad look like purple lipstick. The popular hue actually dates back to the ancient Egyptians, who often donned deep purple and black shades of lipstick, according to Style Craze. But as they say, everything old is new again, and purple lipstick is back in a big way. There are truly dazzling choices with purple makeup in general, but lipstick gives a particularly striking look, bringing lips center stage in a major way.
How get the retro purple lipstick look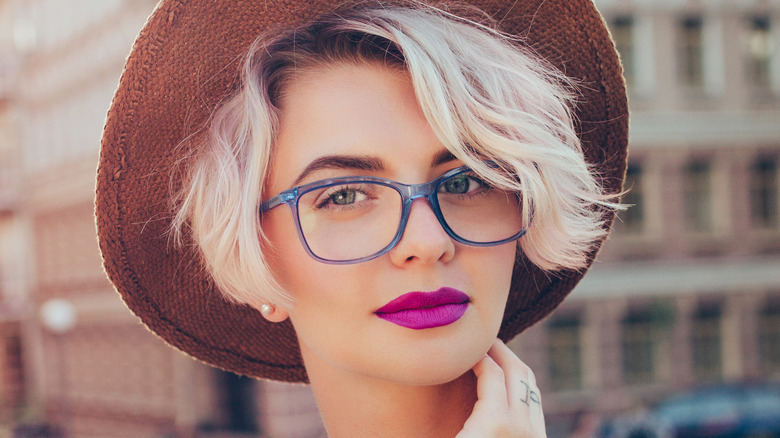 Sun Shock/Shutterstock
If you're thinking of trying a deep violet or prominent grape lipstick but feeling slightly timid about such a bold look, rest assured anyone can pull off purple lipstick. All types of complexions can wear purple lipstick and look good in it; you just have to find the right match for your skin tone.
Though purple lipstick is universal, it makes a strong statement. In this case, less is more. Keep in mind you can go overboard. For example, if your lips are purple, don't match your eye color to it, says Makeup.com. Though colorful eyeshadow trends look great, the best looks focus on either vivid eyes or lips, and not both. 
To complement a purple lip, shade your eyelids with subdued skin color and line them with a light brown. Go with a basic black mascara and choose a nude blush or bronzer. Complete the look by making sure your eyebrows are well-groomed and defined, but don't overpluck your eyebrows either. 
Keeping the rest of your makeup simple will help the purple lipstick stand out even more and complete the vibrant retro look.