Gigi Hadid Donates Her Earnings From Fashion Week To Two Important Causes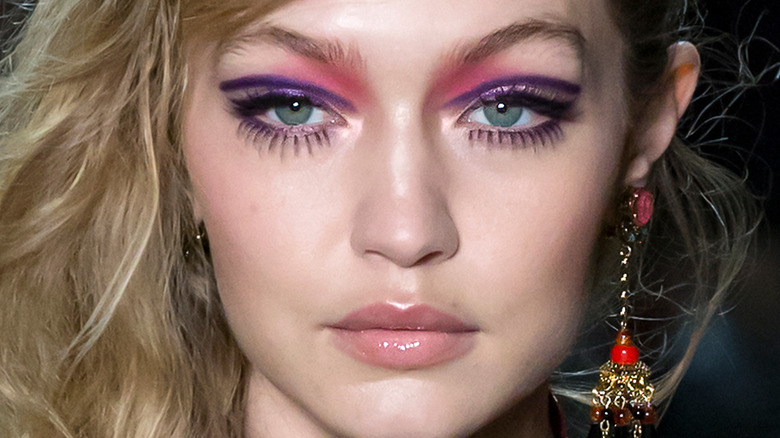 Ovidiu Hrubaru/Shutterstock
Gigi Hadid's first modeling gig came when she was just 2 years old, and was for Baby Guess (via IMG Models). Since then, she's become an internationally famous model, and she's even gotten into designing. For instance, she worked with Stuart Weitzman to design a shoe collection that, with every sale, helped provide funding for Pencils of Promise, which helps build schools (via Pencils of Promise). Hadid has also been working with UNICEF since 2018, and has used her social media to help promote ways for people to get involved and help others, per Vogue. And she's continuing her philanthropy work with this year's fashion week.
Hadid posted to Instagram her commitment to donate all of the money she makes from Fall 2022's fashion shows "to aid those suffering from the war in Ukraine, as well as continuing to support those experiencing the same in Palestine." She also highlighted the fact that the fashion show schedule is such that models "often present new fashion collections during heartbreaking and traumatic times in history." Because of this, she wants to do her part to help.
Gigi Hadid is one of several celebrities donating to refugee groups
Kathy Hutchins/Shutterstock
Gigi Hadid said she got the idea to donate her fashion week earnings from fellow model Mica Argañaraz, who posted on her Instagram Stories about how strange it felt to be "walking in fashion shows knowing there's war happening in the same continent" (via Teen Vogue). Hadid's younger sister and fellow model, Bella, is also donating part of her fashion week money, as is Kaia Gerber (via Marie Claire UK). According to People, Hadid's ancestry hails from Palestine, which is why she's also donating for Palestinian relief. After all, Middle Eastern suffering is often overlooked. 
The pledge to donate comes amidst the Russian invasion of Ukraine, with other celebrities raising funds as well. Actors Mila Kunis, who is Ukrainian, and Ashton Kutcher started a GoFundMe with a $30 million goal to help with humanitarian aid for Ukrainian refugees. They'll also be matching up to $3 million worth of donations (via the Los Angeles Times). Furthermore, Ryan Reynolds and Blake Lively will match up to $1 million for donations to the nonprofit USA for United Nations High Commissioner for Refugees (via NBC News).