Britney Spears Reveals The Unexpected Beauty Secret That Helps Her Speak Up For Herself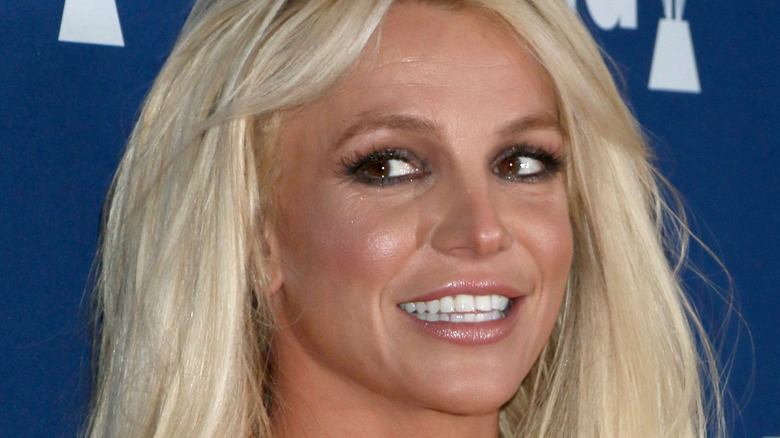 Kathy Hutchins/Shutterstock
She's definitely coming out of her shell. After Britney Spears' nearly 14-year conservatorship ended in November of last year, we are learning more about the pop star's mental state and how she copes with overwhelming public attention. In a new Instagram post, the "Toxic" singer opened up about a beauty secret that actually helps her speak up for herself despite having what Spears' said is "social anxiety" of "the worst kind" (via Page Six).
In the lengthy social media post, the mega-star shared a photo and video of her intricate manicure. "I've never done this before ... I believe it's called nail embellishments," the 40-year-old wrote in her honest caption about a butterfly and bow that adorn her nails. Spears then shared a nickname she was given as a child. "I was called 'baby lady,'" the newly engaged singer said, adding a manicurist had added a "lady emblem" to her pinky.
"Have people been holding out on me because I've never seen these before !!!" Spears asked her nearly 40 million followers. "The most adorable little charms I've ever seen in my life !!!" she added. But it turns out Spears' unique nail art means more to her than just looking cute.
Britney Spears says her nail charms are her secret weapon
In addition to telling her fans that she finds her nail embellishments "adorable," Spears confided in her Instagram post that her manicure has been quite empowering. "I've felt ghosted most of my life ..." she sadly shared. So what is her secret for overcoming this crushing feeling? Spears continued, "but if you feel somewhat not acknowledged enough in life or have confidence problems, I swear these charms do in fact change your perspective !!!"
"For instance ... I never talk because I'm usually shy ... I have social anxiety but like the worst kind where it's unbearable," the singer revealed, adding however that there is hope. "I looked at my hands, saw these charms and I exploded with conversation ... not scared at all to talk ..." she swore in the lengthy caption to her post.
Spears went on to call her nail charms her "new dope a** assistant." The star said about her "assistant," "She lets me say whatever I want with no judgment !!! She's honestly the best ..." Although the singer says she at first felt the charm was "tacky" she now sees they "have so much character !!!"
Spears' fans supported the star in the comments section of her post, with many expressing joy at seeing their idol seemingly doing so well after years of having suppress her true self.