Bindi Irwin Reveals The Signs She Received From Her Late Father During The Birth Of Her Daughter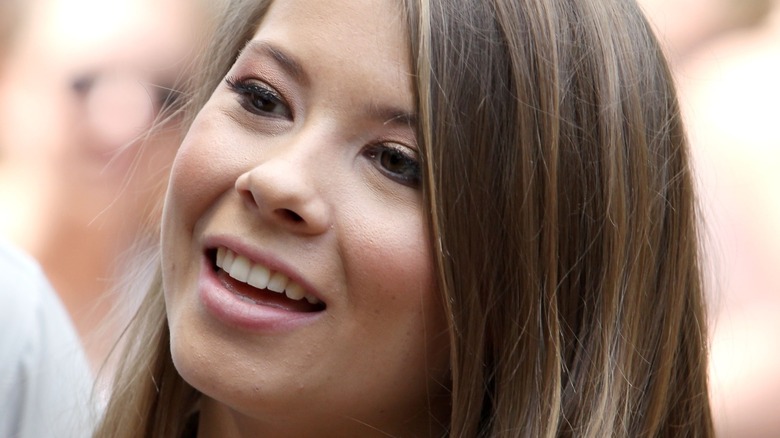 Backgrid
Part of what makes losing a loved one so tragic is that they will no longer be there for important life milestones. This is especially true for people who lose a parent before they get married or have children — and for this reason, many will pay tribute to a late parent during their own important events. Likewise, Bindi Irwin kept Steve Irwin involved in the birth of her daughter, Grace Warrior Irwin Powell, whom ABC News reported that she and husband Chandler Powell welcomed in March 2021. As fans of the family know, Bindi lost "Crocodile Hunter" Steve in an accident on September 4, 2006, when a stingray pierced his chest and sent him into cardiac arrest. To this day, Bindi isn't sure whether she will ever truly overcome the grief of losing her Dad. In 2019, she told News.com.au of how she's processing his death. "Some days you feel the grief more than others," she said. "What gets to me are those moments when I'd love him to be here to share what we're doing."
Despite the fact that Steve is gone, Bindi continues to keep his memory alive through her daughter Grace. Per the Daily Mail, she takes her daughter for walks through the gardens of the Australia Zoo every day. There's no doubt Steve would be proud of how Bindi is raising her granddaughter, and there were even signs that Steve was looking over the little one as soon as Grace was born.
Bindi Irwin's daughter looks just like her famous grandpa, Steve Irwin
Though Bindi Irwin has had to manage without dad Steve Irwin since she was eight years old, she has recognized signs from him that let her know her know he's still around and watching over her. One such strange occurrence was the fact that she gave birth to her daughter Grace on "the same date as her parents' first wedding anniversary," per The Mirror. Furthermore, Grace bears a startling resemblance to her late grandfather. The Daily Mail reported that Bindi was "struck" by her daughter's appearance, as she has "the exact same nose" as Steve.
Bindi paid tribute to her Dad through Grace's name, as she revealed in an Instagram post shortly after her daughter was born. Explaining that Grace is a family name, both in Bindi and Chandler's families, Bindi added, "Her middle names, Warrior Irwin, are a tribute to my dad and his legacy as the most incredible Wildlife Warrior." In 2022, Bindi spoke to the Daily Mail about how she's raising Grace, and about how motherhood has changed her for the better. Just as Steve prioritized fatherhood, Bindi is guiding Grace to grow into a strong woman. "I feel a sense of enormous responsibility to raise our daughter to be an empowered woman," she told the outlet. Surely, that's something Grandpa Steve would agree with.