Gabby Barrett Reveals The Inspiration Behind Her Daughter's Name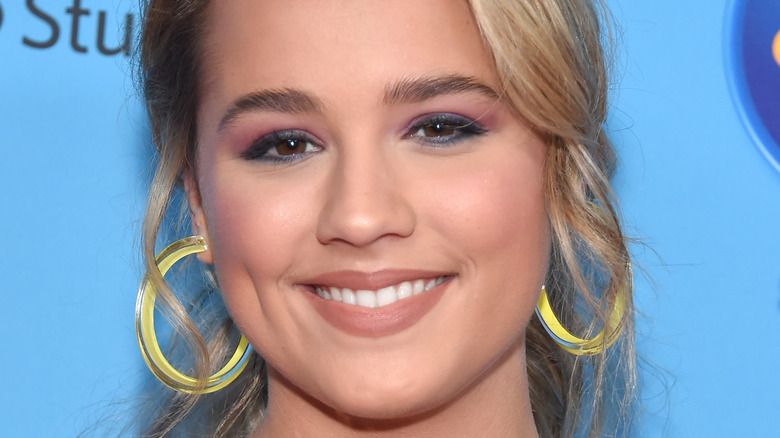 DFree/Shutterstock
Gabby Barrett has become one of America's sweethearts. She competed on "American Idol" during Season 16, and although she came in third place, she won something equally amazing: her now-husband, fellow contestant Cade Foehner (via Country Living). Since her time on the hit competition show, Barrett has made a big name for herself in the country music world. She has had two singles top the country charts and just received the ACM Award for new female artist of the year.
Barrett and Foehner married in 2019 just a year after they first met. In August 2020, they told People that they were expecting their first child together, saying "We are very excited. The Lord has blessed us with a little one, and we're really excited to finally be able to share the news with everybody and just have a big old family celebration about it." In January 2021, they announced her arrival in an Instagram post, saying "Got to spend a very sweet week with our newest addition ... meet our girl Baylah May Foehner 1.18.21." 
Fans were excited for the pair and after revealing the name, and many wondered the meaning behind Baylah May.
Gabby Barrett's daughter is named after family
Baylah May is a unique-sounding name, but Gabby Barrett and her husband, Cade, explained they were inspired by members of their family. During an interview on "The Bobby Bones Show," Barrett revealed where they came up with the name. "Cade's sister's name is Bailey Blane and I was just kind of trying to spin off of that because I like the name Bailey, but I wanted something that was a little more original," she said on the show. "I was in the airport just messing with it and I was like, 'Bailey, Baylah,' and I was like, 'Oh, I like Baylah' and I put it down in my notes." Barrett went on to say that her middle name celebrated her sister, who was born in the month of May.
Recently, Baylah celebrated her first birthday with a trip to Disney World. And while the trip was full of magic for the sweet family, many fans wondered why the baby girl's face was not shown in any pictures. Barrett took to her Instagram stories to explain, saying "For the people constantly commenting on Baylah's face being blocked out of pictures, she is our daughter. We will not purposefully take pictures with her face in them because we keep her face identity private," reports Us Weekly.