How Much Did Kim Chi Spend On Her RuPaul's Drag Race Looks?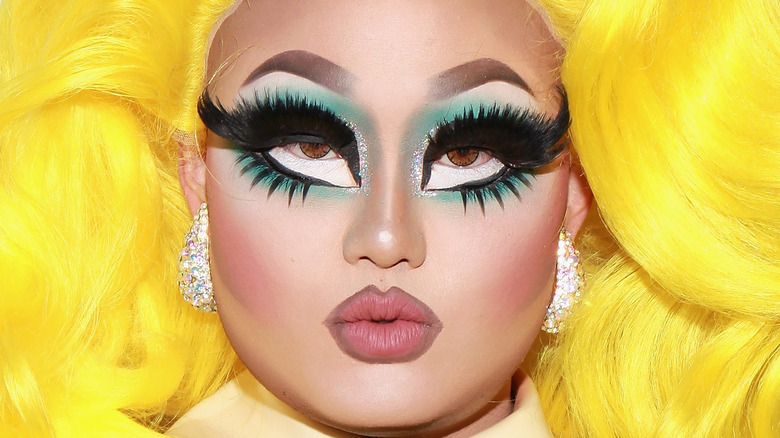 Santiago Felipe/Getty Images
Over the course of 14 successful seasons, and numerous spin-offs, "RuPaul's Drag Race" has gone from cult curio to one of the most popular and widely known reality shows on the planet. As Vox details, the queens who've graced the "Werk Room" over the years have millions of ravenous fans all over the world — regardless of whether they ultimately won the show, or even managed to make it to the top three. These days, you don't have to win "Drag Race" to come out on top, as fan favorites including Naomi Smalls, Alyssa Edwards, and Kim Chi can surely attest.
Kim quickly caught fans' attention after admitting her mom didn't even know she was a drag queen. The performer also shared how difficult it was to grow up not just closeted but also "fat, femme, and Asian." When host RuPaul Charles asked Kim to give her younger self advice, she memorably said, "the things that you're ashamed of are going to be the things people love you for." That's certainly proved true in the years since her season aired, especially as Kim has gained significant traction on social media, where she has millions of followers hanging on her every word.
Regardless of her demonstrable success, though, taking part on "Drag Race" doesn't come cheap. At the same time, as far as Kim's concerned, it doesn't have to be super expensive, if you're willing to get creative. 
Kim Chi didn't break the bank to compete on Drag Race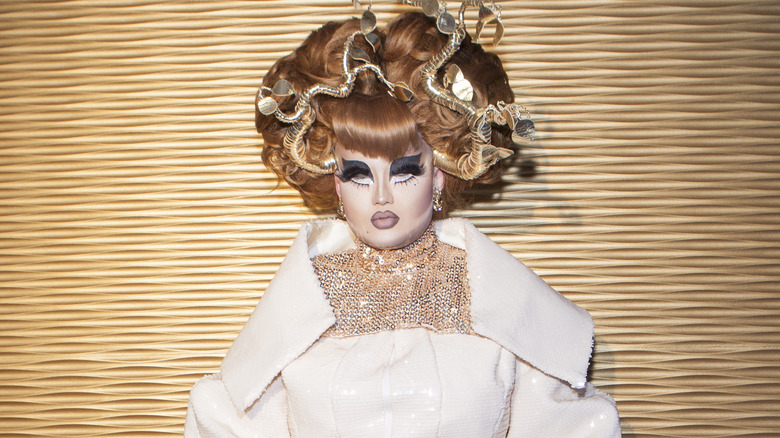 Santiago Felipe/Getty Images
Although plenty of queens drop massive amounts to compete in the Olympics of drag, as multiple former contestants divulged during a Vice investigation into escalating costs, not everybody is willing to go broke for it. Kim Chi told Paper magazine that, after creating many of her "Drag Race" outfits herself, and thrifting for the requisite supplies, she reckons "it's up to the queens to be resourceful and utilize their money well before going on the show." 
If queens have thousands of dollars to spare, more power to them, but as far as Kim's concerned, it's entirely up to each individual how they approach the process. She revealed, "You know how much I spent to prepare for season eight? $1,500." The Season 8 finalist's comments are in stark contrast to Aquaria, who spent at least $5,000 on her "Drag Race" wardrobe, per Vice, and Yvie Oddly, who dropped an eye-watering $14,000, much of which was tied up in loans. 
Both competitors won their respective seasons, so clearly it was all worth it in the end (and they've surely more than recouped those costs since), but it's worth noting Kim isn't doing too badly either. Per Hollywood Life, she hosted a popular web-series alongside fellow fan fave Naomi Smalls, entitled "M.U.G.," has appeared in several high-profile music videos, and even launched her own makeup line, Kim Chi Chic. Not too shabby — and she didn't go into debt for it either.