Jessica Holds Back Tears While Defending The Most Controversial Love Is Blind Cast Member
When you have a reality TV dating show that revolves around people proposing to partners they haven't seen before, you're guaranteed a fair bit of drama. Toss in some headstrong people, and ending up with a few villains is pretty much a given. Netflix's "Love is Blind" was an instant hit, as viewers couldn't get enough of couples clashing, and the intriguing love triangles the series offered up. The thing that undeniably had fans on the edge of their seats throughout the first season, though, was contestant Jessica Batten. Batten was almost instantly disliked by the public for her role as the show's villain, which was secured by her pursuit of male contestant Matthew Barnett (per Junkee).
Batten faced some severe public backlash for her actions on the show, and she faced an even more brutal confrontation during the reunion episode by Barnett's wife, Amber Pike. Pike referred to Batten as "sheisty," and called her "so fake" during the reunion (via Buzzfeed). After some time passed, viewers started to feel bad for how hard they had been on Batten. Batten has also been very open about how much she struggled with the public scrutiny. A Reddit thread addressing the hate included comments like, "I think she deserves sympathy for all the cyberbullying and hate she received." 
Now that Season 2 of "Love is Blind" has aired, another super villain seems to have emerged, and Batten has some serious thoughts on how this individual is being treated given her prior placement in the same role.
Jessica sympathizes with Abhishek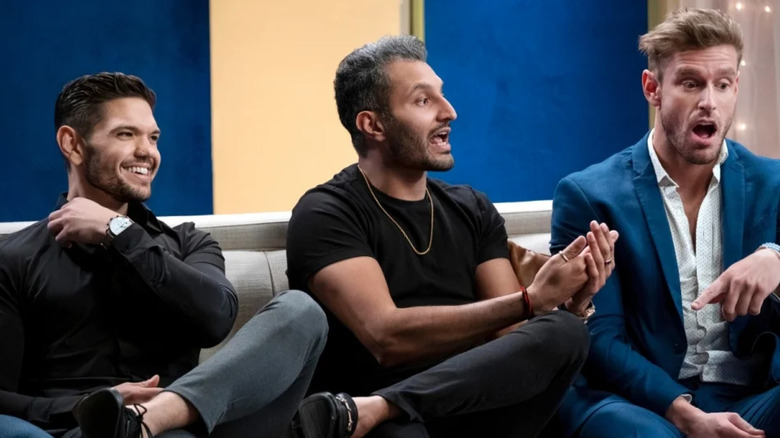 Netflix
Abhishek "Shake" Chatterjee immediately rubbed viewers the wrong way with his persistence on trying to figure out the ladies' weights during Season 2 of "Love Is Blind." This was exacerbated by his disrespectful and offensive comments about his then-fiancé, Deepti Vempati, whom fans grew to love (per Insider). Chatterjee has faced hate from just about everyone, and he even got a mouthful from "Love is Blind" host Vanessa Lachey during the reunion. While Chatterjee seems to enjoy his self-proclaimed role as the show's villain, alum Jessica Batten wasn't as happy about the development.
Speaking with Us Weekly for its "Here For The Right Reasons" podcast, Batten said she felt compelled to defend Chatterjee. While visibly holding back tears, Batten explained, "It's hard for me to see someone be torn apart regardless of their actions on TV. And sometimes with editing and, you know, there's entertainment for a show, sometimes you have to take accountability for things that you didn't do." 
Although Batten sympathizes with Chatterjee, she does grant that he isn't handling the situation well. "He's not taking the chance at this time and he's not willing to kind of fall on that sword, whether it's totally, you know, his fault or not. I think there's probably certain things that weren't aired that he's probably just so hurt about and caught up about [but] he's still human, who still needs to [be] treated like a human being."
Chatterjee suffered his own brutal reunion episode, similarly to Batten. Batten commented on this as well, saying, "I was a little traumatized by that."