Meghan King Shares What It's Really Like Living With Her Son's Health Challenges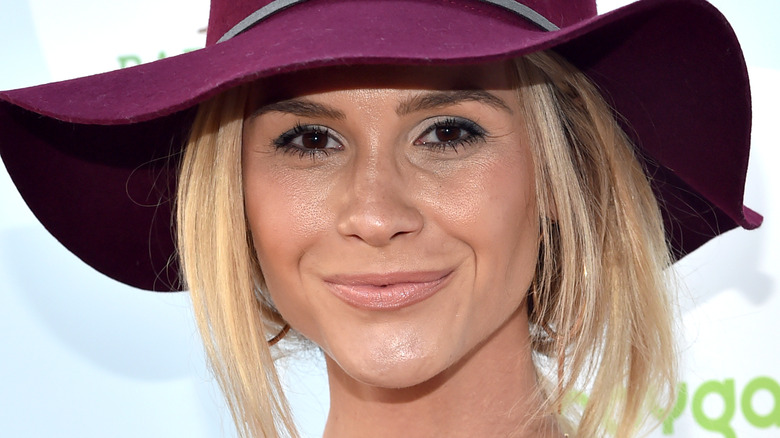 Alberto E. Rodriguez/Getty Images
Meghan King is a single mom of three after recently getting a divorce following a short-lived marriage to Cuffe Biden. The former "Real Housewives of Orange County" star was previously wed to baseball player Jim Edmonds, with whom she shares 3-year-old twins Hart and Hayes and a 5-year-old daughter named Aspen. Hart has cerebral palsy, a diagnosis which King first shared in 2020 (via People). Now, the mom is opening up about daily life with Hart in a raw new Instagram post.
In the accompanying photo to her courageous post, we see King crying in her car, with her son sitting in his car seat behind her. "I don't like being defined as a mother of a child with cerebral palsy," she began her lengthy post, going on to say, "In fact, I actively work against it."
King continued, "I seldom share with you the challenges Hart faces and instead focus on how great he's doing while trying to give equal focus to my other two children and myself. But the reality is that Hart's brain injury affects all of our lives daily." The struggling mama then detailed what it's like trying to "balance" the needs of Hart as well as her other kids.
Meghan King has a lot of questions about Hart's future
King went on in her brave Instagram post to clarify about Hart's diagnosis, "Although CP is defined as a motor disability, its symptoms rear their heads in a plethora of other ways." The star then explained the story behind her tearful selfie, writing, "Today is the second day in a row that Hart has had to leave school for poor behavior. This not only renders me unable to work during that short school window but it leaves me feeling frustrated and helpless for both of us."
The star then wondered out loud, "Is his environment too inconsistent? Is he not getting enough attention? How do I balance his needs with the other needs in the household? Is there such a thing as balance? Is there a solution? Is happiness achievable or are we bound to a lifetime of rollercoaster behaviors, merry-go-round therapies, and erratic emotions that eat into everyone's time and energy?"
King's emotional share ended with the "RHOC" alum admitting, The unknown is daunting." She also asked, "How do I keep him integrated in normal schooling when he acts violently or disruptive? How?"
Finally, King expressed gratitude to her followers, joking, "Thank you for attending my depressing TED talk." Commenters quickly offered support and encouraged King to hang there, be her son's advocate and explore other educational and therapy options for her son.