Donald Trump Just Received A Massive Gift That Is Sure To Turn Heads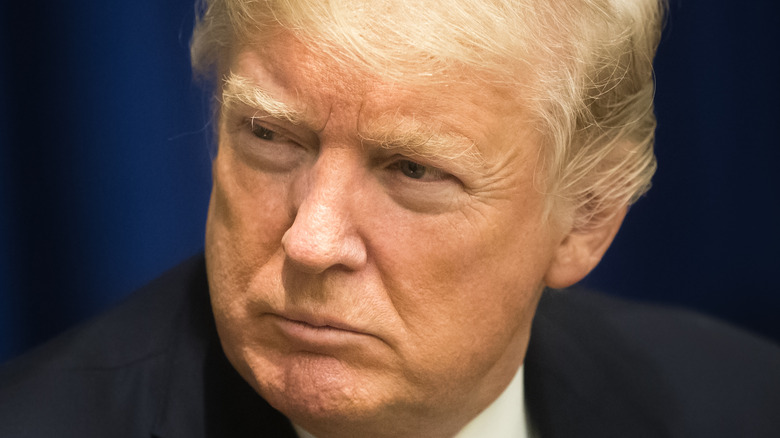 Drop of Light/Shutterstock
For the last year, former President Donald Trump has been strongly hinting at the fact that he will be running in the 2024 presidential election. Especially in the past few months, Trump has been incredibly active at political conferences and events. Trump has even embarked upon a tour with Bill O'Reilly and has given numerous press interviews in the past few months, leading many to believe that he is close to announcing his official run for the presidency in 2024. Though the former president has yet to confirm whether or not he will be throwing his hat back in the ring for the 2024 presidential election, Trump's recent speech at CPAC provided the heaviest hint yet that he plans on running. "They're [Democrats] going to find out the hard way, starting on November 8 and then even more so on November 2024. They will find out like never before. We did it twice, and we'll do it again. We're going to be doing it again, a third time," Trump said in a speech at the event per Newsweek.
Trump has continued his press tour of sorts in the past week, appearing on an episode of the controversial podcast "Full Send." The podcast is hosted by the Nelk Boys, a group of YouTubers who have become well-known for their provocative pranks. During his appearance on the podcast, Trump spoke about the threat of a third world war and brought up false allegations that the 2020 election was stolen.
Trump received a custom Rolex from the Nelk Boys
While speaking with the Nelk Boys for their podcast, "Full Send," former President Donald Trump received an expensive gift from one of the Nelk Boys. According to TMZ, the Nelk Boys' SteveWillDoIt, also known by his real name, Stephen Deleonardis, gave Trump an ice blue platinum Day-Date 40mm Rolex, worth a staggering $75,000. This particular model of the Rolex watch is actually not sold in stores, which means that SteveWillDoIt had to place a custom order to craft Trump's gift. SteveWillDoIt claimed that he felt the need to give Trump a gift after selling $500,000 worth of t-shirts featuring his face alongside Trump's face.
Just hours after uploading the podcast on YouTube, the platform removed the video for violating its misinformation policy, which was likely sparked by Trump's claims that the 2020 presidential election was stolen. After his interview with the Nelk Boys was taken down, Trump released a statement through his Save America PAC, citing this incident as proof that American censorship is becoming similar to Russian censorship. "Whatever happened to free speech in our Country? Incredibly, but not surprisingly, the Big Tech lunatics have taken down my interview with the very popular NELK Boys so that nobody can watch it or in any way listen to it," Trump said in a statement, per the New York Post.