Everything You Need To Know About Victoria Beckham's Beauty Brand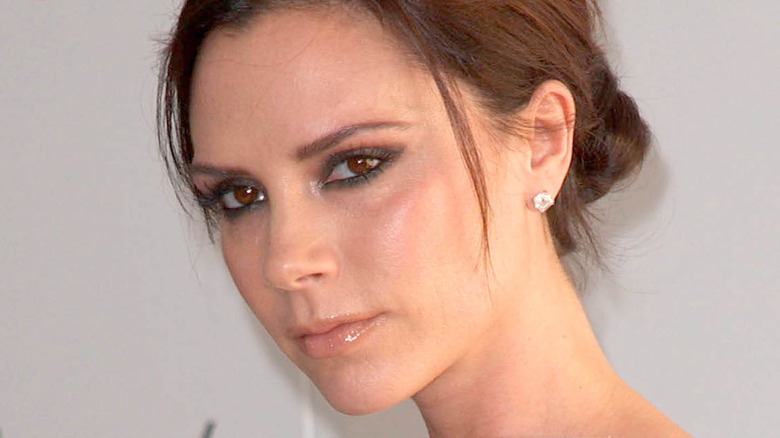 s_bukley/Shutterstock
Victoria Beckham is one busy lady. Her longtime fans likely know her as one-fifth of "The Spice Girls," aka Posh Spice. During her days fronting one of the most popular girl bands, she was known to sport little black dresses and flash the camera a sexy pout. When the fashionista married soccer legend David Beckham, it seemed like only a matter of time until she created her own clothing line. Per Harper's Bazaar, she launched her eponymous clothing line in 2008, and was an immediate success from day one. As Porto Montenegro notes, the Victoria Beckham brand is known for its modern, minimalist and sophisticated vibe, where each design is nicely fitted and made with high-end tailoring. 
Once Beckham won over the fashion elite, she turned to the world of beauty. According to Byrdie, the former popstar's lineup of "effective skincare" and "clean, high-performance luxury makeup products" appeal to everyone. Drawing inspiration from their own experiences as working women, co-founders Beckham and Sarah Creal curated Victoria Beckham Beauty for the modern, on-the-go woman. "We both had such a passion for beauty and creativity, but we also connected on the level of being working moms, always in a rush, but wanting to take time for ourselves — and our sanity!" Creal shared with Byrdie. Because Beckham never does anything halfway, her beauty line is packed full of must-have products, which we break down below.
Victoria Beckham Beauty makeup is seriously pigmented and impressively luxe
Posh Spice was rarely seen without her trademark eyeliner, so it's no surprise that Victoria Beckham launched her beauty line with an impressive range of eye makeup products. Per Byrdie, the line also includes a range of face and lip items. Not only do the beauty items boast superb quality thanks to their clean ingredients, but they come highly pigmented and are perfect for those given to self-expression through makeup.
In particular, Byrdie is a fan of Satin Kajal Liner, Beckham's creamy, pigmented eye pencil that's intended for lash and water lines. As well as creating the ideal wing, users can smudge it for a seamless, smoky effect. Satin Kajal Liner comes available in eight gorgeous shades, and we guarantee you will want them all. Another fan favorite product is Beckham's Future Lash Mascara, which Elle UK recommends for its ability to lift lashes with zero clumping. The vegan formula is also packed with moisturizing ingredients that help lashes grow over time. Glamour UK loves Beckham's Lid Lustre, which it praises as the "elevated and beautiful relative" of standard eyeshadow because of its brilliance and dimension. Lastly, there's Beckham's VB Bitten Lip Tint, which Who What Wear notes for its staying power. Some lip tints may be drying, but Beckham's version boasts hyaluronic acid and squalane for lips that feel just as a good as they look.
Victoria Beckham Beauty partnered with Augustinus Bader to create a minimal and effective skincare line
Victoria Beckham is meticulous about her skincare routine, which is more proof that you should start breaking out the shopping carts for her skin products. To launch the line, Byrdie reported that Beckham turned to Augustinus Bader, who is famous for creating go-to skincare for celebs. This powerful collab between two powerhouses in beauty is bound to deliver products that are worth the hype, right? Right.
One of the pair's most popular products is VB's Cell Rejuvenating Power Serum, which is made using Bader's TFC8 technology. As Beckham's website notes, this skin barrier-protecting serum is packed with antioxidants, vitamins, and amino acids to give you the healthiest skin of your life. Though priced at $125, it works like magic. Byrdie raves about the power serum, which supports overall skin health and gives you a natural, radiant glow. For users looking for more of that "VB glow," Beckham's Cell Rejuvenating Priming Moisturizer is also worth a try. Per Elle, it "supports the skin's cell turnover" (which is vital for a youthful appearance) and instantly leaves you with plump, glowing skin. The Cell Rejuvenating Priming Moisturizer also comes available in a golden tint, which Grazia Magazine calls "divine." And there you have it! Whether you're a skincare aficionado or favor more of the dramatic smoky eye look, Victoria Beckham's line is worth your time and money — plus, it offers a little something for everyone.