The Latest Photo Of Wendy Williams Has Fans Excited About Her Future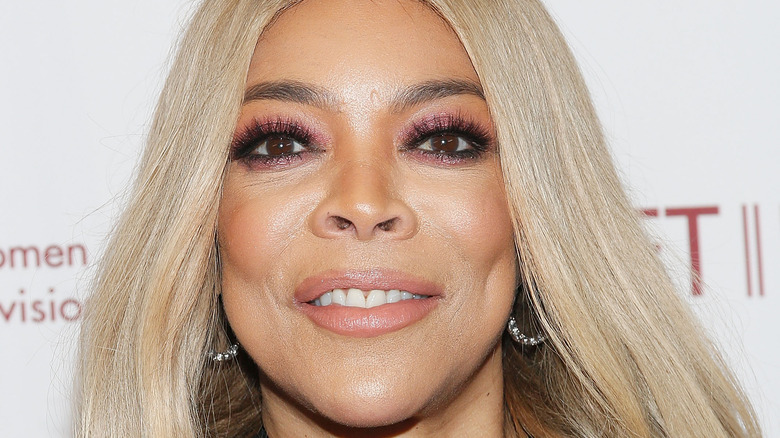 Lars Niki/Getty Images
Wendy Williams has had a tough year. In fall 2021, Williams, who suffers from Graves disease, faced a number of health issues that forced the postponement of the 14th season of "The Wendy Williams Show," per Page Six. 
Since 2008, Williams' tough critique of celebrities and on-air charisma attracted millions of viewers. Eventually, it was revealed that Williams' health issues had made it impossible for her to appear on the 14th season of the show. 
Beginning in October 2021, a series of guest hosts, including Michael Rapaport, Jerry Springer, Sherri Shepherd, Leah Remini, and Michelle Visage, took over Williams' hosting duties on "The Wendy Williams Show," according to Page Six.
On Feb. 22, 2022, it was revealed that, after 14 seasons on the air, "The Wendy Williams Show" would be coming to an end. 
"Since Wendy is still not available to host the show as she continues on her road to recovery, we believe it is best for our fans, stations, and advertising partners to start making this transition now," said Mort Marcus and Ira Bernstein, co-presidents of the show's distributor, Debmar-Mercury, in a statement, per The Hollywood Reporter. 
"We hope to be able to work with Wendy again in the future, and continue to wish her a speedy and full recovery." 
Shepherd, who was a popular guest host on "The Wendy Williams Show," will be taking over that time slot with her own talk show, "Sherri."
However, despite the loss of her show, a new photo of Williams has fans excited about her future.
Wendy Williams looks happy with an old friend in a new social media photo
On March 13, 2022, DJ Boof, who left "The Wendy Williams Show" in 2021, posted a photo with Wendy Williams on his Instagram. In the photo, Williams is laughing while he's jokingly plugging his ears with his fingers. "I don't wanna hear it🤣 '2022,'" DJ Boof captioned the post. 
Prior to this public display of their friendship, the pair were thought to not be on speaking terms since he left the show. Before the show's postponement and eventual cancellation, DJ Boof spoke of his concerns for Williams' health and accurately predicted that her health issues would impact the show, according to The U.S. Sun.
In the comments section of DJ Boof's Instagram post, fans expressed their excitement at seeing the duo together once again. 
"Wendy y'all need to do a podcast show together," one user commented. "We got to get y'all together and start [a] new show," another user said. "Yes to you two together!!!! You both had great chemistry!! We miss Wendy!!" another Instagram user commented on DJ Boof's post.
Howard Bragman, Williams' publicist, claims that Williams could return to television if her health improves. 
"She understands why this decision was made from a business point of view, and she has been assured by Debmar-Mercury that should her health get to a point where she can host again and should her desire be that she hosts again that she would be back on TV at that time," he said in a statement, per The Hollywood Reporter.