Fans Spot A Surprising Detail In Kim Kardashian's Instagram Post With Pete Davidson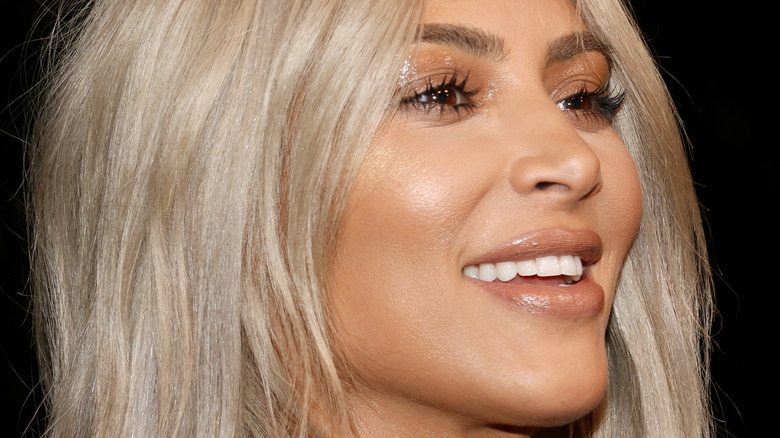 Tinseltown/Shutterstock
Everyone was talking about Kim Kardashian and Pete Davidson going Instagram official with their relationship earlier this week. And because the photos the reality star shared of the couple went viral, of course eagle-eyed fans spotted a weird detail in the images.
It turns out that Kardashian posted the same series of shots of herself with the "SNL" star on Instagram and Twitter (via Page Six). According to an Instagram user, the SKIMS founder later deleted the Twitter post, but not before fans noticed that in the Instagram photos, the carpet the famous couple are sprawled out on is beige. Meanwhile, in the same exact photo from Twitter, the rug was patterned.
In the caption to the post that pointed out the discrepancy, the fan, whose Instagram username is igfamousbydana, wrote, "I genuinely do not know why Kim edited the carpet. Does anyone else know or care to take a guess?"
This is far from the first time a Kardashian has used Photoshop
Taking to the Instagram post's comments section, fans were quick to suggest that Kardashian didn't want fans to know where she was and that the carpet might give her location away. "Oh it's probably in case people recognize the hotel carpet," said one fan. "Ever since her Robbery I'm sure she's very paranoid about those things. And I'm sure Kanye stalking her and threatening Pete doesn't help..." Indeed, Kardashian's ex, Kanye West, recently openly threatened Davidson in his music video for "Eazy," kidnapping and burying a claymation version of the actor.
But as the original poster later added, "*edit* these pics are old, she was not at this hotel when she posted. Also – that should tell you how intensely detailed they are about editing their pics, and how they create their images for their curated feed. None of it is real."
It's not exactly shocking that the mom of four would Photoshop her social media, with her sister Khloé often being accused of the same thing. Twitter users slammed this latest supposed fail, with one person commenting about the family, "They're full of plastic surgery, and they Photoshop everything."