Things Are Reportedly Getting Ugly In Kim And Kanye's Custody Battle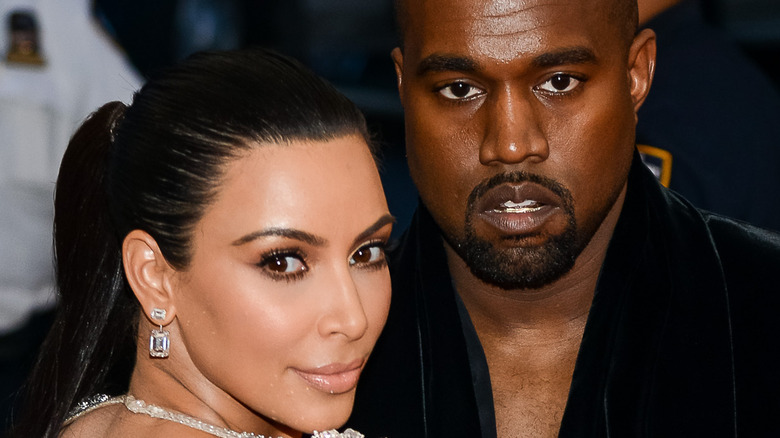 Sky Cinema/Shutterstock
While the Kardashian family is known for their affinity for controlling their narrative, Kim Kardashian's divorce from Kanye West has become one of the most public and unpredictable fixtures of the news cycle. Ever since the former began dating "Saturday Night Live" star Pete Davidson, the latter has taken to social media to express his every—thought (via The Sun). Aside from sharing private text messages, posting negative memes of Pete Davidson, and making public declarations of his love for his ex, West dragged his children into the spectacle.
On March 14, the "Runaway" rapper shared an Instagram photo of North West's backpack which featured pins of Kardashian, West, and an alien. He captioned the post, "This was on my daughters back pack when I was "allowed" to see her last week This is why I go so hard for my family I am wired to protect my family at all cost As the priest of my home Don't worry Northy God is still alive." 
In a since-deleted comment, Kardashian asked West to "stop with this narrative" and reminded him that he saw his kids earlier that day (via People). Following this extremely public display of custody issues, sources revealed to TMZ that the celebrity parents are struggling to settle their differences.
Kim and Kanye's custody battle may have unintended casualties
According to TMZ, Kanye West is gearing up to face Kim Kardashian in a heated custody battle. While he is reportedly hoping to reach an agreement outside of court, West is prepared to do whatever it takes to get the custody agreement he wants. While West is publicly arguing that the SKIMS founder doesn't let him see his children as often as he would like, Kardashian insists that she wants West to spend time with his children. Sources revealed that West spent three days with his four children just last week. The rapper is allegedly only denied access to his kids when they have a prior engagement.
At the moment, West's lawyer Samantha Spector is working toward creating a formal custody agreement between her client and Kardashian. While West is solely focused on the custody battle, Kardashian is reportedly worried about how this public debacle may affect the kids. An insider told Us Weekly, "Kim is deeply hurt by the fact that North could come across Kanye's posts and it could affect her. She's doing her best with the joint custody, but there are certain things that are hard to control."