Here's Why Donald Trump Doesn't Want Mike Pence As His 2024 Running Mate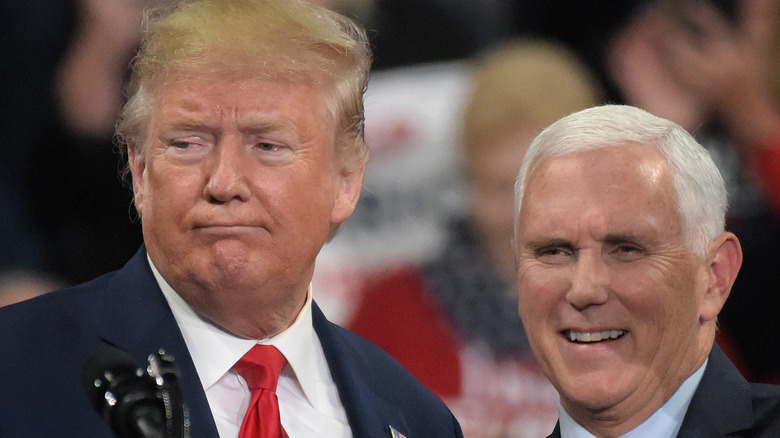 Matt Smith Photographer/Shutterstock
It might only be halfway into President Biden's 4-year term, but that hasn't slowed down Former President Donald Trump from sharing his plans for re-election. All signs point to Trump running for re-election in 2024, but it turns out that he likely won't be sharing the stage with Former Vice President Mike Pence. While the two were seen as buddy-buddy during their time in office, Trump revealed to The Washington Examiner that they don't talk much anymore. 
When asked point blank if he would be running with Pence in the future, Trump shut it down pretty quickly. "I don't think the people would accept it," Trump tells The Washington Examiner. He attributed this to the fact that Pence, as Senate president, would not overturn the results of the 2020 election.
Despite the fact that the two had a "great relationship" during their time in office, the two haven't spoken in a while. So it makes sense that the two would not be running together. "Mike and I had a great relationship except for the very important factor that took place at the end. We had a very good relationship," Trump told the Washington Examiner. "I haven't spoken to him in a long time." Maybe Pence just needed a little break. After all, it was a long four years. 
Mike Pence makes more money not being vice president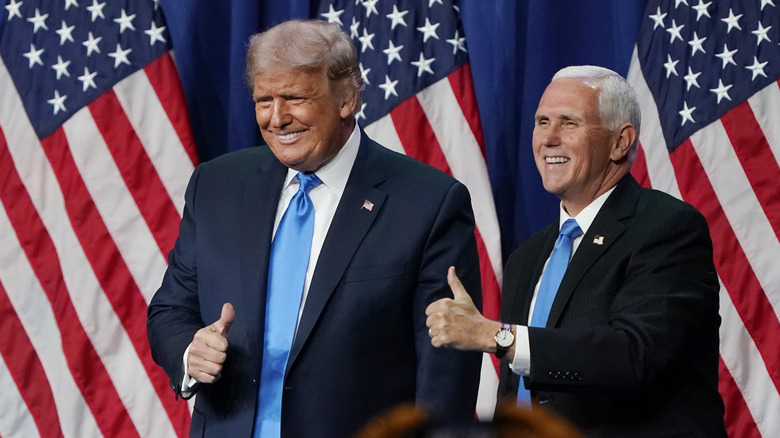 Pool/Getty Images
Former Vice President Mike Pence doesn't really need to run for re-election, after all. He's already spent four years in the White House, which is more than many other politicians. In fact, he doesn't really need the money, either. He's making more out of office than he did during his time as Donald Trump's right-hand man.
According to Vanity Fair, Pence lives in a $2 million mansion in Indianapolis and makes about $100,000 for to travel across the country for speaking engagements. Compare that to the $230,700 that he made per year as vice president and giving speeches might just be the better option (via Pay Wizard). 
Of course, there's no ruling out Pence to run himself in 2024. According to Morning Consult, Pence was ranked as the top Republican nominee amongst Republican voters who don't want Trump back in office. While that's not exactly a campaign promise by any means, there's a good chance that he's noticed the result. Only time will tell for this man!