Everything You Need To Know About Taraji P. Henson's Haircare Brand, TPH By Taraji
Amy Sussman/Getty Images
We may receive a commission on purchases made from links.
Taraji P. Henson is best known for her roles on screen. The actress began her career on television in 1997, going on to star in movies like "Hidden Figures" and Hustle and Flow." She earned an Oscar nomination for her role as Queenie in "The Curious Case of Benjamin Button," and garnered a star on the Hollywood Walk of Fame in 2019, per IMDb.
But the talented actress is also known for her entrepreneurial skills. She created her own mental health foundation called The Boris Lawrence Henson Foundation, which focuses on breaking the stigma of mental health issues in the African-American community. Henson told USA Today that it's one of the coolest things she's ever done, saying "To me, that's cool because it broke the barrier and people are now talking about it more often than they were before, and I'm going to take the credit for that. I just am."
She's now entering the crowded celebrity beauty world with her new haircare brand, TPH by Taraji.
TPH keeps your hair healthy without the high cost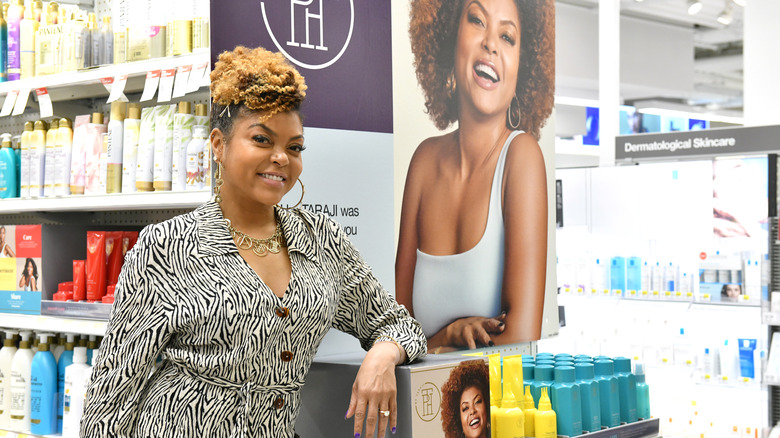 Craig Barritt/Getty Images
Taraji P. Henson's haircare brand, TPH by Taraji, is now available at Target, both online and in stores. According to The Hollywood Reporter, TPH features 18 different products, all ranging in price from $9.99 to $14.99. Each product was something she needed for her own hair. 
TBH features a clay mask, curl refresher, hair milk, oil blend, heat protectant, shampoo, and conditioner, all items Henson uses herself, especially when she is working. "Even as I got into the business, I heard these tales of losing edges in your hair because of work, and I thought, 'I'm not doing that,' so I started wearing wigs," Henson told USA Today. "I noticed that I had an issue keeping my scalp and my hair clean, so I had to find a solution to a real problem, and I did." The line of TBH products is for every type of hair, although natural hair has a strong influence on the products she created. 
You can find everything TBH, from the Twist and Set Twisting Cream to the Ride or Die Detangling Leave-In Conditioner, and the Ultra Chill Serum, which Henson tells The Hollywood Reporter she uses every other night, at your local Target or online at Target.com. 
Taraji P. Henson has been working on this line for years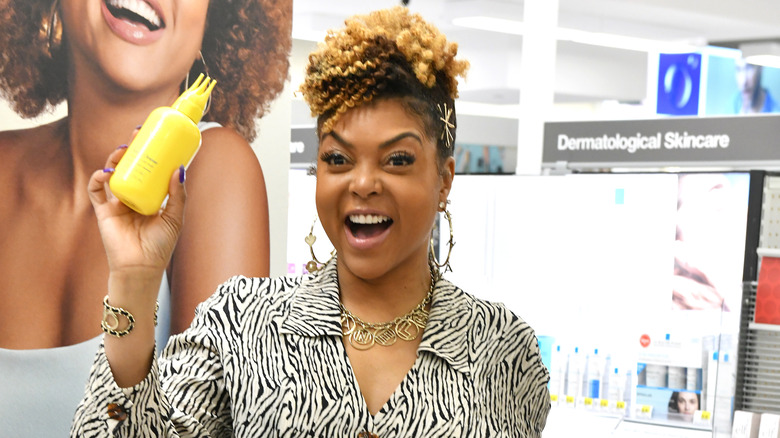 Craig Barritt/Getty Images
While getting her haircare line into the market wasn't easy, Taraji P. Henson tells USA Today that she has been working on this for years, and had a side business doing hair while she was in college. "I would do wet sets for $20 in my dorm room, and I just always had a thing for hair," she told the publication.
"I love my hair and I didn't want to lose it. I wore it out [on] a couple of projects," she told The Hollywood Reporter. After being unable to find what she needed on the market, Henson created her own mix to treat her scalp and hair woes, and shared it with her friends. "I just made this for me; it wasn't for the masses until I had friends try it on vacation one time, because they were complaining about their scalp. They were [like], 'Oh my God, this is amazing.'"
For Henson, her haircare line is not about money, but about a true need for quality, affordable products. "This is why I made it — because there was a problem and I needed a solution. [It's not a] celebrity wanting to put her name on a brand and push it. This is mine. I came up with it because I needed it," she says."