What Is Hair Slugging And Should You Be Doing It?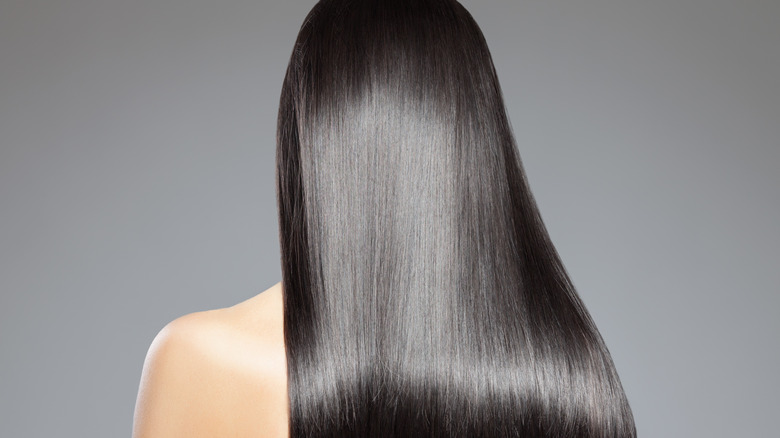 And-One/Shutterstock
You may have heard of slugging, the popular practice of slabbing a thick layer of petroleum jelly onto your face before bed. This skin-protective measure is said to lock in moisture and keep the skin hydrated and supple.
It could be helpful if you have dry skin and live in a cold climate. As Shari Marchbein, M.D., a board-certified dermatologist, told Glamour, "To help combat dry winter skin, I have three words: moisturize, moisturize, moisturize."
Although this skincare regime can revitalize dry skin and leave you looking baby smooth, it's not a one-size-fits-all fix. After all, not all popular beauty trends apply to everyone. Face slugging can feel heavy on your skin, explains USA Today, and if your skin tends to break out, the thick jelly has the potential to clog pores and aggravate acne.
While slugging can be a part of your skincare regime, now we've embarked on a whole new type of slugging, and this one is exclusively for hair.
Hair slugging is the newest beauty trend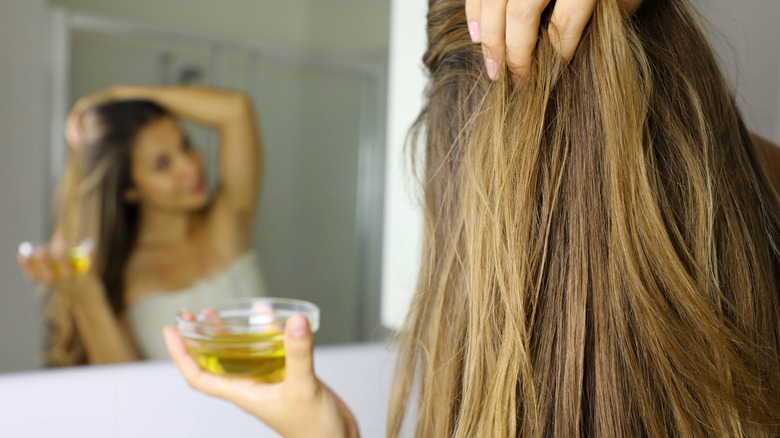 Zigres/Shutterstock
Similar to face slugging, hair slugging consists of placing a moisturizing oil in your hair and then positioning your tresses in a sock to protect them while you sleep. The trend has taken off since TikTok user Monique Rapier demonstrated this old practice to a new generation of people with dry hair.
Monique recommends applying a lightweight oil to your hair and then using a fuzzy sock to protect your hair from friction while sleeping. By the way, she makes collecting long hair in a small sock seem like a magical feat. She says she's been doing this practice for a year and has never had shinier, silkier locks. Monique claims this nightly routine also protects hair from split ends and breakage. Her hair does have an immense shine to it and looks like it could be featured in a shampoo commercial, but again this may not be for everyone. If your hair is very oily, certain styling products may worsen the problem, reports Self.
Also, you might want to make sure that you aren't using your best pillowcases when you first try it out, or use a sleeping bonnet. Until you get the hang of tying up the perfect sock-covered ponytail, you might stain your bedding.