Marjorie Taylor Greene's Suggestion To Ukraine Is Raising Eyebrows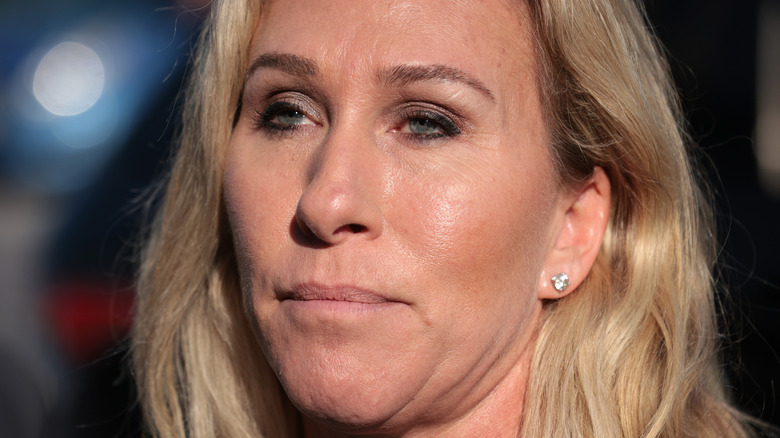 Win Mcnamee/Getty Images
The Russian invasion of Ukraine has inspired many public figures to voice their opinions, from President Biden to his predecessor, Donald Trump, and royal brothers Prince William and Prince Harry. One notable dissenting voice, however, is Marjorie Taylor Greene. The conservative Congresswoman from Georgia has been promoting what she terms an "America first, globalism last" view when it comes to the crisis, and her most recent remarks on the topic have many wondering if she has gone too far.
On March 16, Greene appeared on Rumble, a video platform supported by conservative voices such as Donald Trump Jr., to offer her thoughts on the Ukraine invasion. The short speech denounces President Biden's $800 million aid package to the beleaguered nation, as reported by NBC News. "We're told that we have an urgent moral responsibility to send money and munitions to a country 6,000 miles away — a country that, just coincidentally, Joe Biden has business interests in," Greene said.
While the Congresswoman allowed that Russian President Vladimir Putin's actions have been "despicable and evil," and that the images of suffering Ukrainian citizens are tear-inducing, "we must not let compassion blind us to reason and common sense," Greene added. Explaining that the two nations have been "smoldering" for some time with "peace agreements violated by both sides," she advised against offering aid to Ukraine before addressing American issues such as border control and the opiate crisis. Then, she made a suggestion that had social media buzzing.
Marjorie Taylor Greene thinks Ukraine is a lost cause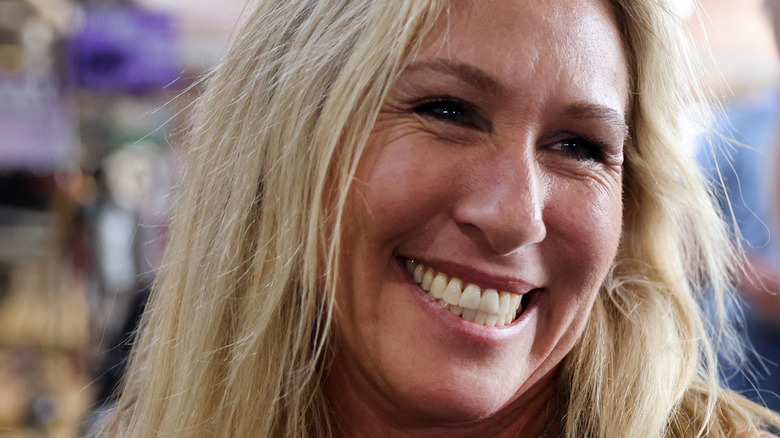 Scott Olson/Getty Images
Asserting that the U.S. should address its own domestic problems before inserting itself into the Ukrainian crisis, Marjorie Taylor Greene told her followers on Rumble that Ukraine was a lost cause. "If we truly care about suffering and death on our television screens, we cannot fund more of it by sending money and weaponry to fight a war they cannot possibly win," Greene said. 
After placing blame for the invasion on President Biden's "weak" policies, the Georgia Congresswoman allowed that America could still help end the conflict by hosting peace talks between Russian President Vladimir Putin and Ukrainian President Vlodymyr Zelenskyy. This, she said, was both the best outcome of "a war whose outcome already seems certain," and America's obligation "as Christians."
Greene's address was received poorly on social media. When she posted her video to her Facebook page, followers responded with comments such as "It's not your place to address the nation in these matters. You are out of line." Another wrote, "You told Ukraine to give up fighting. We cannot let Tyranny win. People like you that would rather side with Tyranny than fight against it, should be dealt with before more damage is done."
On Twitter, fellow Congresswoman Liz Cheney tweeted a caustic response, writing, "Putin is targeting and slaughtering civilians in a brutal unprovoked war against Ukraine, a sovereign democratic nation. Only the Kremlin and their useful idiots would call that 'a conflict in which peace agreements have been violated by both sides."