Britney Spears' Return To Instagram Leaves Fans With More Unanswered Questions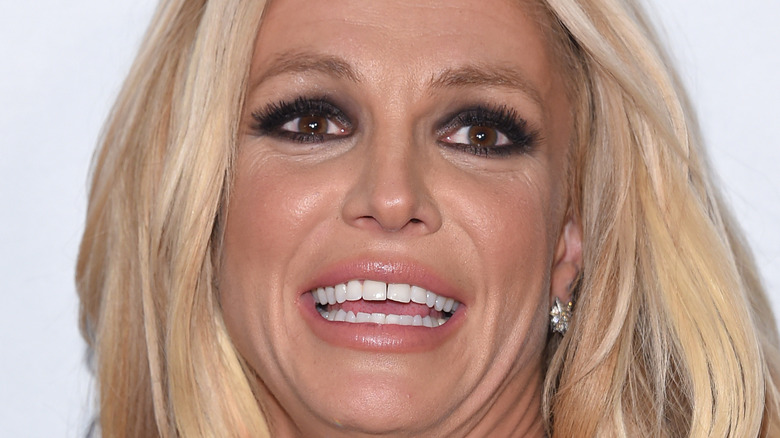 DFree/Shutterstock
Over the past few years, Britney Spears has often taken an interesting approach to social media. The singer has a tendency to share cryptic posts with confusing photos and videos, but fans have grown to live for the quirky Spears Instagram content. That's not to say the occasional dancing video hasn't left fans concerned, per The Sun, but in 2021, those fans finally got what they had been protesting and hoping for when Spears was officially freed from her conservatorship. 
According to The Guardian, Spears' conservatorship had plagued her for 13 years. And with this new legal freedom came a whole new and completely open Spears who suddenly began to fill her Instagram captions with rants about her innermost thoughts and feelings. 
Spears' social media has always meant a lot to her. Her social media manager, Cassie Petrey, confirmed in a now-deleted post from 2021 that Spears has always had complete control over her social media. That makes it one of the few things she has maintained control over during her conservatorship, per Dazed. This explains why Spears has always used her Instagram and Twitter to fully express herself. Growing reliant on each and every post for updates on how she's doing, Spears' fan base grew concerned when she deactivated her account on March 17, according to CNN. The concern only grew further upon her cryptic return.
Britney Spears returns with a simple caption post
Two days before deactivating her Instagram, Britney Spears shared a cryptic post about finally being free. According to TMZ, the now-deleted post revealed that while she was in her conservatorship, Spears was made to "work seven days a week" with things like "no private baths," having to give "eight gallons of blood weekly," and even "drugged." Fans were understandably concerned after reading the heartbreaking and worrying caption, and things only got worse when Spears appeared to go off the grid after posting, per Elle. 
A few days later, Spears was finally back on Instagram and made her debut with an unusual post. The Instagram post featured a few photos of Spears posing in an outfit, but what was bizarre was the simple caption of a rose emoji — no explanation, no rant. Spears has since shared a few other posts within hours of each other that were even more confusing. One post was a TikTok video of pregnant woman's baby bump moving, and the rest were more photos of the same aforementioned outfit followed by a posing video in the outfit. Fans filled her comments section welcoming her back to Instagram, but Spears has yet to offer an explanation for her absence.