Here's What Addison Rae Studied At School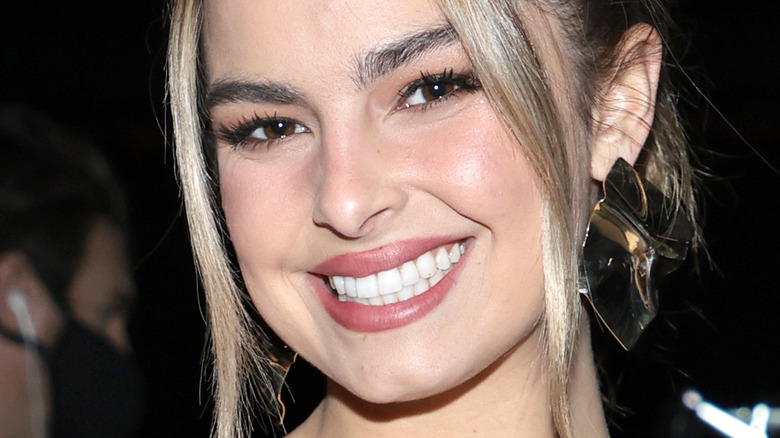 Dimitrios Kambouris/Getty Images
If you've spent any amount of time on TikTok in the past few years, chances are you've seen one of Addison Rae's videos. Rae has taken TikTok by storm, and her career has only grown and flourished because of it. What started as dance routine videos quickly turned into over 100 million followers for Rae across TikTok, Instagram and Twitter. Since becoming a social media star, Rae has started her own line of beauty products, released original music, starred in Netflix's "He's All That," and become BFFs with Kourtney Kardashian. The multi-talented influencer even landed her own Snapchat video series, based in her home state of Louisiana.
While, as of this writing, Rae lives in Los Angeles, she initially started her TikTok rise to fame in 2019 as a teenager living in Louisiana. According to Seventeen, Rae's family moved around a bit due to her parents' divorce when she was younger. She went from Louisiana to Texas, eventually ending up back in Louisiana when her parents reconciled and remarried in 2017. Two years later, the "He's All That" star graduated high school and went off to college in Baton Rouge. 
Even if you're already a loyal fan, you may be wondering what Rae studied at school.
What did Addison Rae study in school?
Per Seventeen, once Addison Rae graduated from high school in 2019, she and her family moved to Baton Rouge, La. so she could live at home while attending Louisiana State University. In an interview with Forbes, Rae said, "I did go to college for about three months. That was a really fun and exciting time. My focus for college was broadcasting and TV commercial work, the entertainment industry as a whole." 
Clearly, Rae has been quite successful in multiple avenues of the entertainment industry, so her brief stint as a broadcast journalism major has seemingly paid off. However, as with the decisions of many famous influencers, it hasn't come without some slight backlash. In July 2021, Rae faced criticism for a tweet that showed the social media star holding a microphone while working as a reporter for the UFC. In her tweet, Rae joked that she "studied broadcast journalism in college for 3 whole months to prepare for this moment." 
While she may have intended it as a cheeky joke, her tweet received replies from some pretty upset Twitter users. One person wrote (via Dexerto), "So you're taking a job from someone who [dedicates] their time and money to get such a job, whereas you get it because of fame." The next day, Rae replied to the original tweet, writing, "nvm y'all got me fired." Despite the backlash, at least Rae was able to move on with humor and take it all in stride.