The Truth About Olaplex's Controversial Ingredient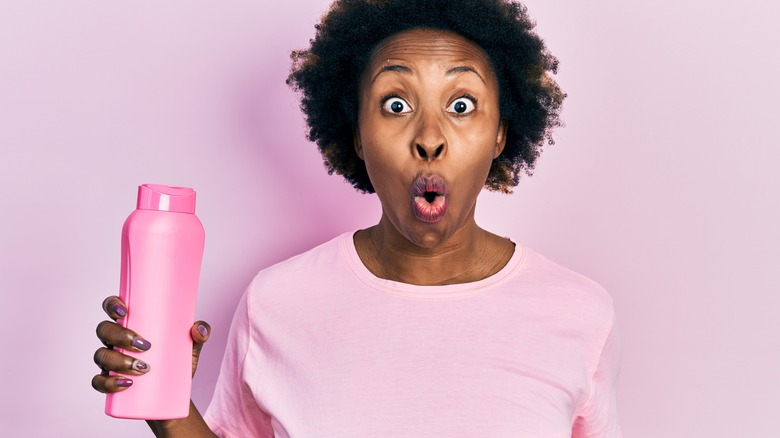 Krakenimages.com/Shutterstock
If you are obsessed with hair, we're sure you have heard of Olaplex. It is likely that you have colored or chemically treated your hair at some point in life, but unfortunately, that typically comes with some damage to your lovely tresses. Even if you have had virgin hair and haven't done anything to your locks, factors beyond your control like aging and weather have probably made them drier and prone to breakage. That is why Olaplex is "universally beloved" because it literally works on "all hair types and textures," making it "stronger, healthier, and shinier," per Byrdie, and who doesn't want hair that looks and feels healthy?
Introduced globally in 2014, Olaplex Hair Perfector No. 3 is their "biggest claim to fame" because it has bis-aminopropyl diglycol dimaleate, which can even treat "extremely damaged hair back to its glossy, frizz-free glory," (via Allure). You will see amazing results whether your hair is straight, curly, or anywhere in-between. In 2021, Today called Olaplex Hair Perfector No. 3 a "must-have" because of its magical powers to "bond together damaged hair and repair split ends for a healthy look." It is "expert-approved," as Edward Tricomi, co-founder of Warren Tricomi Salon, told Today, "It holds (color) in, rebuilds, and hydrates the hair." Making it a must-have for anyone who wants good hair.
So, when it was revealed that the OG of hair-restoring products had an ingredient that may lead to infertility, it went viral on TikTok, alarming all loyal fans.
The updated Olaplex No. 3 no longer has the ingredient linked with infertility
The U.S. and European Union (E.U.) have different standards for regulating ingredients used in beauty products. The E.U. prohibits the use of 1,328 chemicals that could cause "reproductive harm or birth defects" while the U.S. bans or restricts only 11, per Safe Cosmetics. In early 2022, the E.U. banned butylphenyl methylpropional (known as lilial) from cosmetics due to it being potentially a "reproductive toxicant," and news spread like wildfire because that's what was in Olaplex No. 3 (via Allure). Research showed the ingredient's potential link to infertility, which went viral on TikTok, where beauty influencers shared their concerns, shocking all fans.
However, in February 2022, Olaplex's chief scientist Lavinia Popescu had already posted on Instagram, stating, "We decided to take lilial out from our products." They did not limit it to the E.U., where it was banned, but worldwide, sharing, "In this moment, Olaplex, it's lilial-free." Olaplex shared with the New York Post that their No. 3 Hair Perfector "previously used" lilial to add fragrance, but it never had any "active or functional" purpose to restore hair health. Also, LA cosmetic chemist Javon Ford shared on TikTok that Olaplex had already removed lilial from the beloved product between April and August 2021 before the ban was announced. Ford added, "If Olaplex is working for you without issue, no, you do not have to discontinue use."