Here's What We Know About Miley Cyrus' Emergency Airplane Landing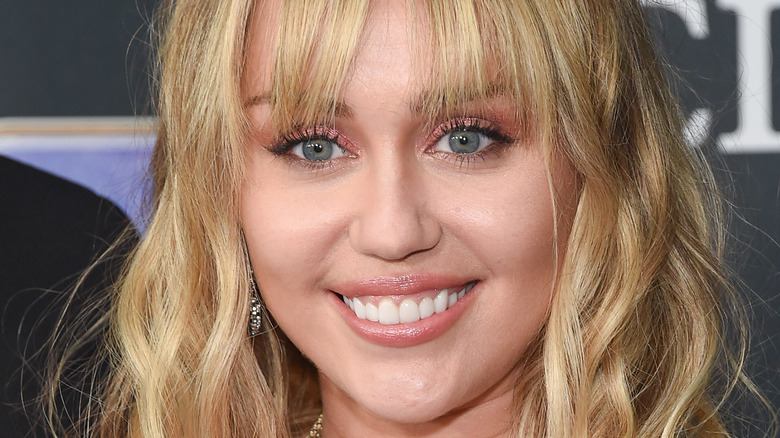 DFree/Shutterstock
Miley Cyrus is feeling very grateful after enduring a harrowing emergency airplane landing en route to Paraguay. The singer took to Instagram to share details from the scary experience, including both a video taken from inside the plane and a photo of a lightning strike to the fuselage (via Page Six).
"To my fans and everyone worried after hearing about my flight to Asunción," Cyrus captioned the post. "Our plane was caught in a major unexpected storm and struck by [lightning]. My crew, band, friends and family who were all traveling with me are safe after an emergency landing," she continued. "We were unfortunately unable to fly into Paraguay," the star concluded, ending her post with a broken heart emoji and the words, "I LOVE YOU."
According to the star's site, she was scheduled to perform at a series of music festivals in South America, including the date in Paraguay. Another engagement saw the "Wrecking Ball" crooner on stage in Brazil.
Miley Cyrus' fans are glad she's okay
As soon as Cyrus posted that she was safe following the emergency airplane landing, both star friends and followers piled into the comments section of her Instagram post to share their concern and well wishes for her.
"Thank you for confirming that you are fine, we were quite worried about so much news. We love you," said one fan. Perez Hilton proclaimed, "OMG! Thankfully no one was injured!!!!" Another fan enthused, "I am so sorry to hear this but so grateful you're well and safe...please rest and use this time to recharge, WE LOVE YOU."
According to Cyrus' Instagram, she recently performed in Bogota, Colombia. A series of posts documented screaming fans enjoying the star singing her hits in a skintight catsuit featuring revealing cutouts. 
There's no word yet on whether the 29-year-old will be going home or continue performing abroad. However, as NBC News notes, lightning strikes to planes happen once or twice a year and while we don't know what type of plane Cyrus was flying on, commercial planes are built to withstand such events.