Tristan Thompson Finally Makes The News For A Reason Other Than His Love Life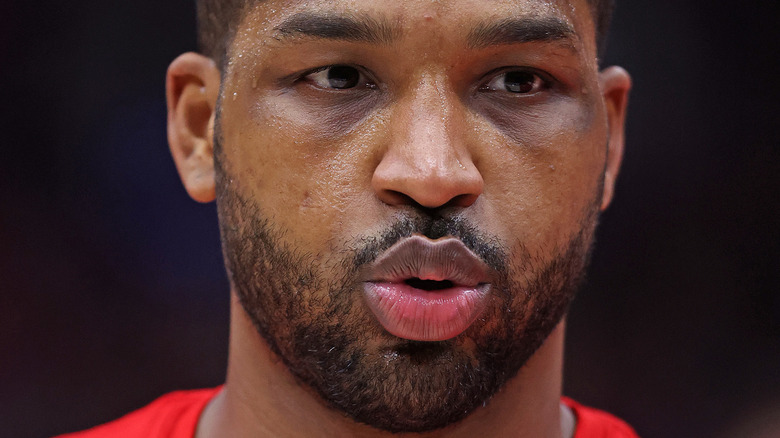 Jonathan Daniel/Getty Images
Tristan Thompson most definitely makes headlines more for his love life drama than for his basketball prowess. Although the center-forward just signed on with the Chicago Bulls, more people are probably better versed in his on-again-off-again relationship with famous ex, Khloé Kardashian. The pro athlete has admitted to cheating on the reality star many times, even when she was pregnant with their daughter, True (via Us Weekly). Most notably, Thompson had a baby with fitness influencer Maralee Nichols while he was attempting to patch things up with Kardashian. For her part, Nichols has claimed she did not know he was still with "The Kardashians" star.
Thompson publicly apologized to the Good American founder for his indiscretion, making headlines again (via USA Today). Taking to social media, the controversial basketball player said in part, "​​You don't deserve the heartache and humiliation I have caused you. You don't deserve the way I have treated you over the years. My actions certainly have not lined up with the way I view you. I have the utmost respect and love for you. Regardless of what you may think. Again, I am so incredibly sorry."
Now, Thompson is making news for a more positive reason that has nothing to do with his love life.
Tristan Thompson's brother is close to his heart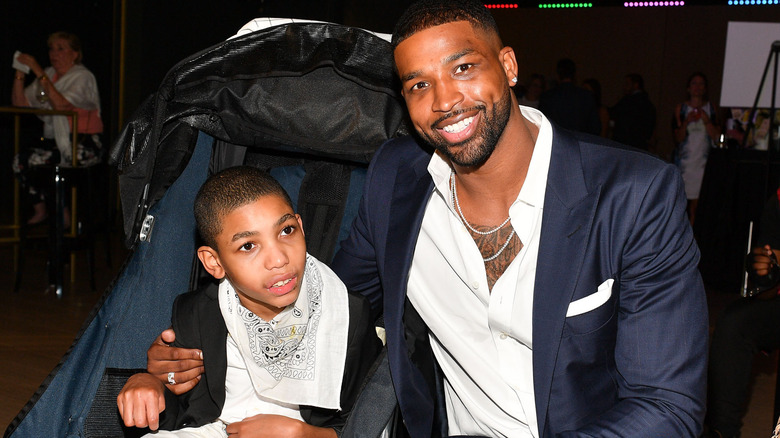 George Pimentel/Getty Images
As the Daily Mail reports, Thompson's newsmaking initiative is tied to his personal life but in the sweetest way possible. The star has partnered with the Epilepsy Foundation for a giveaway inspired by his 16-year-old brother's medical challenges.
"My little brother has epilepsy, so this has always been a cause that is close to my heart. I've seen the hardships Amari goes through," Thompson explained. "I want to make a difference and help in any way that I can for all those living with epilepsy."
To honor Amari, one fan will win a jersey and sneakers, which he'll wear during the upcoming matchup against his previous team, the Cleveland Cavaliers, and also autographed by the player. This is not the first time Thompson has used his fame for good to benefit families living with epilepsy. He launched the Amari Thompson Fund in 2013 that works in conjunction with Epilepsy Toronto to help as many as 40,000 families affected by this seizure disorder.
Thompson has said about his brother, "What makes (Amari) special, is just his fight – especially a kid his age, being able to go what he goes through. He continues to fight and always be in high spirits." According to NBA.com, Amari suffers from near-daily seizures.