Harry Styles Just Dropped A Trailer For His New Album And Fans Are Absolutely Losing It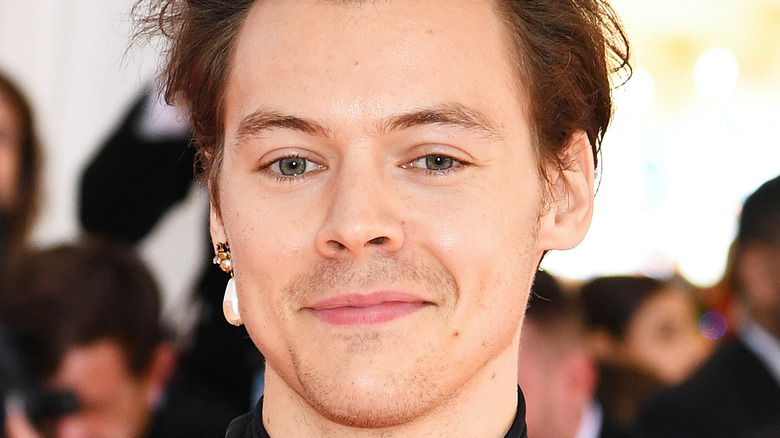 Dimitrios Kambouris/Getty Images
A new season can only mean one thing — brand new music to freak out over. Fans still aren't over his sophomore album "Fine Line," but Harry Styles is officially coming out with another one. The singer announced his new album "Harry's House" on Instagram and shared an album trailer on YouTube. It goes without saying that fans are absolutely obsessed just from the announcement alone.
The One Direction alum has an incredible way of fully embracing his albums as phases in his life. When "Fine Line" came out with tracks like "Watermelon Sugar" and "Cherry" — one of Styles' personal favorite songs — the world saw in fruit for about three years. Fans lived for the album, tour, and everything in between. Now, they're ready to do it all over again with "Harry's House."
Not much is known about the album at the time of publication. The trailer shows Styles walking onto a stage and standing in the window of a two-dimensional house before someone props it up behind him. The way it's filmed, it looks like the home is quite literally built around the star. The mysterious preview is giving us nothing and everything all at the same time. 
Regardless of how little information is out there yet, that hasn't stopped fans from — as one person commented on YouTube — making this album their "entire personality."
Fans marked their calendars for May 20, when 'Harry's House' drops
A good artist puts out music, but a great artist has distinct eras of their life through their music. That's exactly what Harry Styles does. He has a way of captivating fans through his music, love of fashion, and ability to curate a unique aesthetic for each era. There is no doubt in most fans' minds that "Harry's House" will be the exact same way.
Heck, some people are already deeming this Styles' best album yet, and it's not even out yet. "I can sense that this is going to be a major turning point for harry's sound, and i can confirm that this could be the most acclaimed album of all," someone wrote in the comments section on YouTube. "I feel like this album is going to be something so profound that I feel like we're all going to jump right into it, just like this album is going to make us all happier and very emotional."
Others are keeping it light while sharing their excitement for the album. "I'm ready to make this my entire personality," one comment reads. "SCREAMING CRYING THROWING UP," someone wrote on Instagram. "Harold i cannot deal with this today i'm emotional," another noted in the comments section on Insta.
Needless to say, if this is Styles inviting us over to his house, we'll be there.