What Artist Has Had The Most Songs Covered On RuPaul's Drag Race?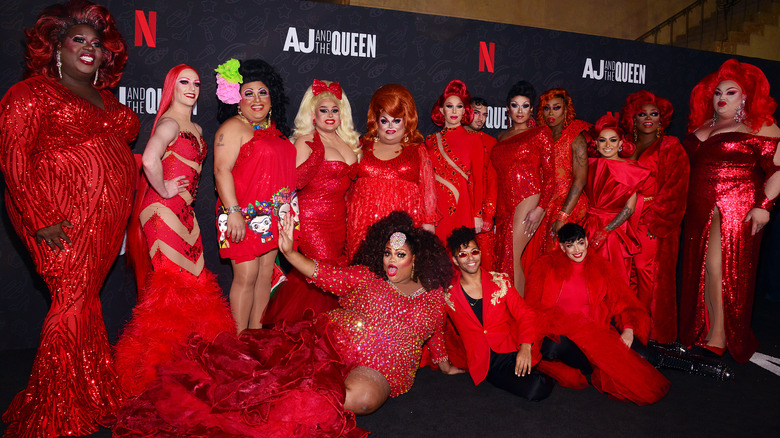 Chelsea Guglielmino/Getty Images
"RuPaul's Drag Race" is the biggest drag competition in the world. Each week, the competing queens are tasked with presenting gag-worthy looks on the runway after taking part in grueling challenges that test their comedic, sewing, and performance skills. The bottom two then duke it out by lip-syncing to continue on in the competition — or, as host RuPaul Charles puts it, they have to lip-sync for their lives.
The Emmy-winning show is 14 seasons strong at the time of writing, not counting its numerous spin-offs worldwide. As a result, "Drag Race" has to work increasingly harder to keep us on our toes — whether that's by introducing wrinkles into various challenges, bringing back eliminated queens, or even giving one participant a golden ticket, as Entertainment Weekly reported. Per Cheat Sheet, we can always count on the lip-sync challenge to bring the drama. And, depending on which artist's song is being used, we might be in for some gravity-defying stunts or an emotionally resonant moment. A-listers like Lady Gaga and Cher have provided their songs over the years, but who's racked up the most tracks on "Drag Race" thus far?
Ariana Grande marked a major Drag Race milestone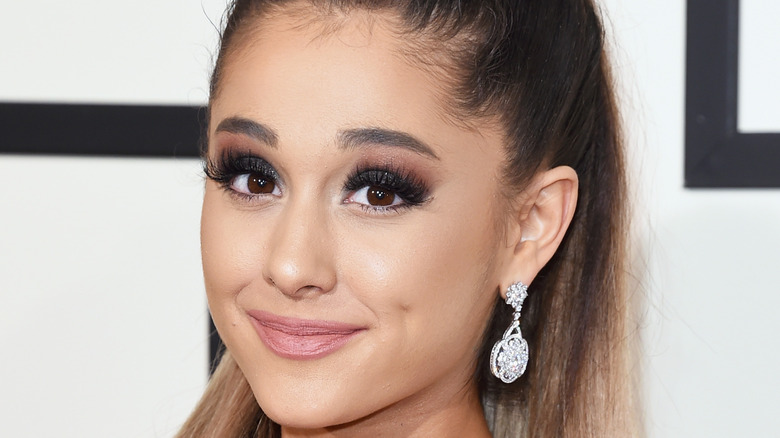 Jason Merritt/term/Getty Images
The "Lip-Sync For Your Life" segment is an integral, and consistently popular, part of "Drag Race." Host RuPaul Charles even believes that the celeb-fronted competition show "Lip Sync Battle" actually stole the concept, per Vulture. "It's a poor ripoff of our show," she told the outlet. "Regular, straight pop culture has liberally lifted things from gay culture as long as I can remember. And that's fine, because guess what? We have so much more where that comes from. Take it!"
RuPaul has no reason to be worried, because A-listers are lining up to provide their songs to "Drag Race." Per Dazed, Ariana Grande celebrated being the most lip-synced singer in the show's history in 2021. The pop icon began her reign on the show with "Break Free" back in Season 7, during which time she also debuted as a guest judge. In the following seasons, her songs "Greedy," "Into You," "Problem," and "One Last Time" all featured. "Bang Bang," her chart-topping team-up with Jessie J and Nicki Minaj, was used in the Season 10 finale. According to Dazed, Grande took to social media with a since-deleted tweet to celebrate her milestone. "!!!!!!! the biggest honor i can't stop screaming," she wrote." At the time, Madonna and Britney Spears were hot on Grande's heels, with six songs each, while Rihanna had five. However, one artist has beaten them all outright with more tracks included than anybody else by far.
RuPaul Charles is unsurprisingly the star of her own show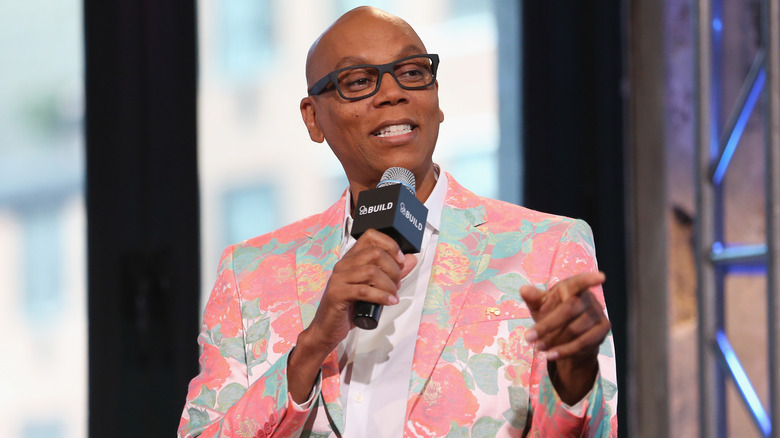 Robin Marchant/Getty Images
Although RuPaul Charles is on record as a lifelong fan of Cher, according to MTV, the "Believe" singer is only the 10th most lip-synced artist on "Drag Race," as Billboard reported. To date, Cher has had four songs featured thus far. Most recently, Kandy Muse and Olivia Lux battled it out for supremacy in Season 13, bringing a surprising amount of emotional heft to her hit single "Strong Enough." Fan-favorite guest judge Lady Gaga comes in at the number nine spot, tied with Rihanna for five lip-syncs so far. 
According to Billboard, Aretha Franklin, Whitney Houston, and Janet Jackson have all had a strong showing on "Drag Race," but even they can't compete with Ariana Grande and Britney Spears, who have eight and 11 lip-syncs respectively. That said, they're easily beaten by the #1 most featured artist thus far: RuPaul herself. As the show's host and titular star, RuPaul's supremacy is practically a given — and she has had 23 songs featured on her show to date. Plus, her fun, clubby tracks are ideal for queens looking to show off what they can do. Out ranked the "All Stars 4" battle between Naomi Smalls and Gia Gunn — set to RuPaul's "Adrenaline" — as the show's fifth most exciting, stunt-filled lip-sync yet, thanks to its ability to generate memes and gag-worthy moments. Evidently, the host won't be pulling back on featuring her own material any time soon.