Jada Pinkett Smith Made A Surprising Claim About Her Hair Days Before Will Slapped Chris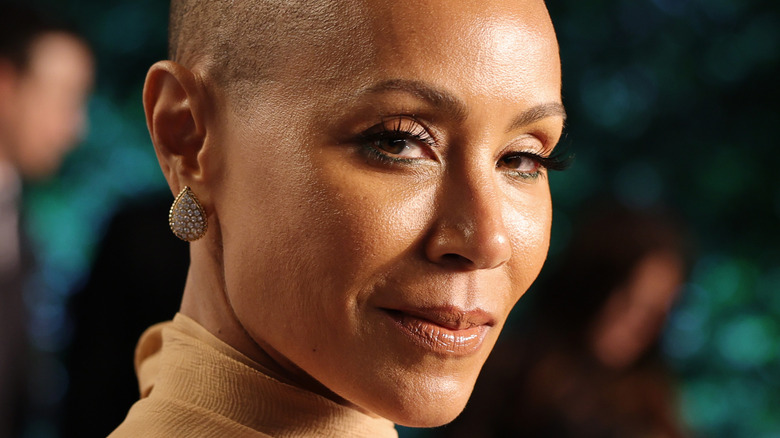 Rich Fury/vf22/Getty Images
By now, it would be nearly impossible to have missed the big moment between Will Smith and Chris Rock that has come to define the 94th annual Academy Awards. The "King Richard" star claims he was overcome by emotion when the comedian made a joke about his wife Jada Pinkett Smith's hair resembling that of "G.I. Jane." For those who don't know—including, reportedly, Rock—the actress suffers from alopecia, a hair loss condition (via Page Six).
The "Men in Black" actor took to Instagram following his assault on Rock in front of the entire Oscars viewing audience to apologize for his actions and explain, "Jokes at my expense are a part of the job, but a joke about Jada's medical condition was too much for me to bear."
Of course, as viewers will recall, Pinkett Smith looked none-to-pleased when Rock directed his jab at her. And presumably, her sensitivity to comments about her hair prompted her husband to jump to his feet and charge the stage, where he slapped Rock and then demanded that he not talk about her any more—albeit in a much more profanity-laced manner.
But now, something the actress said about her appearance has people scratching their, well, heads (via People).
Jada Pinkett Smith shared an empowering message about her hair
As People reports, in a TikTok video posted just a few days before the Oscars, Pinkett Smith addressed how she feels about her hair, living with alopecia. Explaining that as a Black woman, she previously felt pressure to do her hair "a certain way" to please others when she was making movies or doing a magazine photo shoot, the star shared there is "freedom" in not having to go against what her hair is naturally doing any longer.
"I don't give two craps what people think of this bald head of mine. Because guess what? I love it," she declared in the clip. The hashtag #iamnotmyhair was among the tags added to the post.
Of course, the sentiment is beautiful and empowering, which fans pointed out in the comments section of the post. But, following the assault seen 'round the globe, the video is also somewhat puzzling, given Smith's justification for smacking Rock over his joke.