The Surprising Thing Simone Ashley Did To Her Body During Quarantine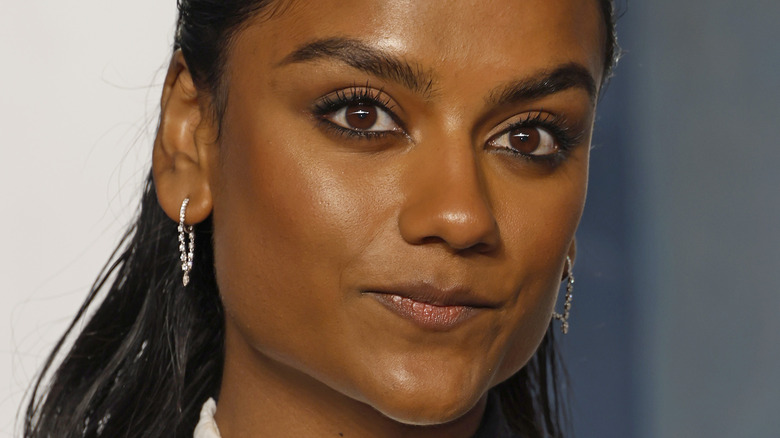 Frazer Harrison/Getty Images
Quarantine was a strange time for all of us, including "Bridgerton" star Simone Ashley.
In the latest episodes of this Netflix period drama, Ashley plays Kate Sharma, a newcomer to London's society scene who has some steamy chemistry with eldest Bridgerton sibling, Anthony. While she's a fresh face on the period drama, you've likely seen her before. Before becoming part of Lady Whistledown's story, Ashley appeared in shows and films such as "Broadchurch," "Sex Education," and "Pokémon Detective Pikachu" (via IMDb). The Times also reported that she will be in the new live-action version of "The Little Mermaid" next year.
While critics aren't exactly thrilled with Season 2 of "Bridgerton," since it premiered on March 25 Ashley has been busy with interviews promoting the show. Recently, she was on "Jimmy Kimmel Live!" where she shared a very interesting moment from the time she spent in lockdown due to the COVID-19 pandemic.
'I thought it would be a good idea to get my own tattoo pen,' shared Simone Ashley
While on Monday's episode of "Jimmy Kimmel Live!," Simone Ashley discussed her COVID quarantine with the show's host, saying she was in Los Angeles, where she took up a surprising new hobby.
At one point, she said, "I thought it would be a good idea to get my own tattoo pen." She then began searching online for how one can give themselves a tattoo. "I found this video, and it was like, 'Oh, I can use this deodorant stick,' like as a chemical reaction on the transfer paper ... Then I looked at the username, and it was called 'prisontattoo.com.' I looked at his videos and was like, 'Wow, there is an inmate making videos in prison.'"
The "Bridgerton" actress went on to tell Kimmel that, by using the steps in the inmate's video, she gave herself some permanent sphinx art on her ankle. She hasn't kept her newfound skill to herself, either, revealing that she has also "tattooed ... castmates that I've worked with before."