JoJo Siwa Gives An Exciting Update About Her Love Life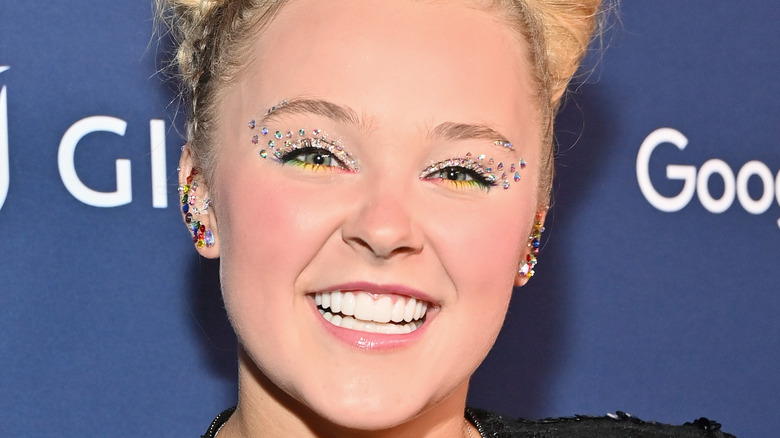 Stefanie Keenan/Getty Images
Jojo Siwa has a lot going on. Not only did the dancer come in second on "Dancing with the Stars" in 2021 (via Billboard), but she made history as half of the show's first-ever same-sex coupling. In the same year, she created her own reality competition show — "Siwas Dance Pop Revolution" on E! — and had plenty of firsts, including attending the American Music Awards, winning a People's Choice Award, and even guest-hosting "The Ellen DeGeneres Show." 
Siwa spoke with Access Hollywood at the 2022 GLAAD Media Awards in potentially one of the cutest interviews ever given. The bubbly icon praised the event and community being celebrated. "GLAAD is such an incredible organization ... I came out a little bit over a year ago, [and] I've learned so much about this community," the star said. She came out in an internet-breaking 2021 Twitter post of her wearing a shirt that said, "Best. Gay. Cousin. Ever." On the first anniversary of the momentous post, she shared, "In the last 365 days I've felt more love than ever. A year ago today I posted this picture and shared with the world that I was gay."
The dancer stepped confidently into her place in the LGBTQ+ community. "Just being surrounded by these people who, we all love each other unconditionally. Everybody in this room tonight is either part of the LGBTQ+ community or an ally, and it just ... feels so good," she gushed to Access Hollywood at the event.
She's a proud role model for young members of the LGBTQ+ community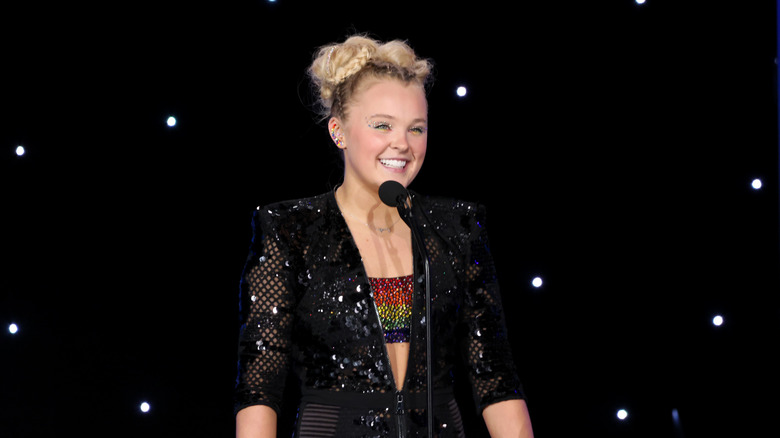 Randy Shropshire/Getty Images
Since coming out, Jojo Siwa has stepped seamlessly into her role as a mentor for young members of the LGBTQ+ community. She shared what this has meant to her in an open and powerful message about the importance of embracing yourself for who you are on Instagram. "Truthfully I feel like I was put on this earth to be a role model for kids, and letting all the kids of the world know that loving everyone for who they are no matter what is something that I will always believe in and always share."
Beyond her success as a positive role model, the entertainer has other reasons to feel great at the moment; when Access Hollywood probed about her current relationship status, she initially reacted bashfully. However, she answered the question, saying, "I can tell you that I'm not single ... I can tell you that I'm very, very, very happy."
Since coming out, the star's relationship status has been a hot-button topic, especially since the end of her nearly year-long relationship with ex-girlfriend, Kylie Prew. Siwa was last romantically-linked to TikToker Katie Mills after they posted a string of videos together. However, Mills soon came under fire for taking part in a racially-offensive TikTok trend, liking anti-trans tweets, and supporting Donald Trump in the 2020 election, despite his anti-LGBTQ+ legislation (via Pink News). Shortly after, Siwa posted a TikTok confirming her single status.
The star says she's 'very, very, very, happy'
Fans had already gotten a glimpse into Jojo Siwa's love life in March. The star posted a TikTok dueting the video she originally posted to mark the new year. The first video lists her favorite music, pinned texts, relationship status, job priority, personal priority, and current obsessions. However, she captioned the follow-up video, "the amount of things that have changed in just 3 months are insane...." Then, she answered a commenter who asked how many of these facts had changed; Siwa cheekily responded, "5 of them."
Siwa confirmed her breakup with Kylie Prew via Paris Hilton's podcast. She took the mic again to share her new relationship status, this time on the podcast "Rachel Uncensored." The star told host Rachel Ballinger, "I am not single and I don't want to mingle. No, I'm a loyal lady." 
When pushed, the singer admitted to having dated briefly following her split from Prew but said she ultimately found what she was looking for. "Listen, I went around the block. I did, and I tried a lot, and I learned a lot and I'm very, very, very happy where I am now."
Siwa gave a similar answer when an Access Hollywood interviewer asked about her relationship status. Though she still wouldn't reveal her new partner's identity, she sweetly said, "I'm very lucky to be with somebody that I love."