Olivia Jade's New Look Has Everyone Saying The Same Thing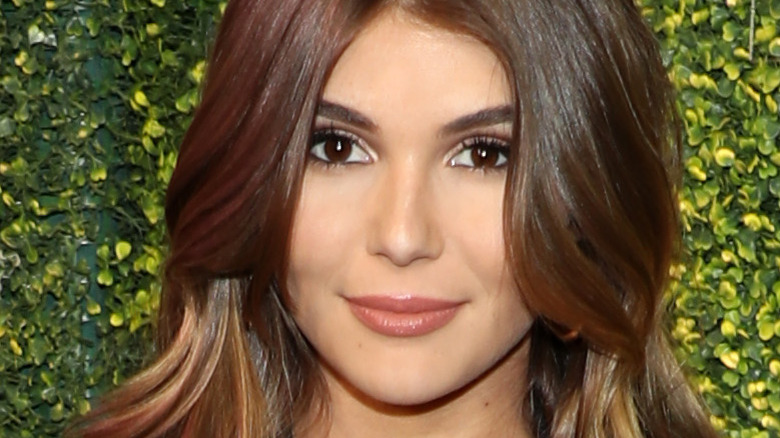 Cassidy Sparrow/Getty Images
It's no secret that Olivia Jade and her mom, Lori Loughlin, are close. The two have been known to show up at red carpets together and constantly support each others' endeavors in the past. Despite the entire Operation Varsity Blues scandal, the two seem to be closer than ever — in fact, they seem to almost be the same person. Jade took to social media sporting a brand new hair style that was inspired by a certain family member's past. It turns out that she's not the first or even the second in the family to recreate a classic look, either. 
Since her two month jail sentence for her part in Operation Varsity Blues, Loughlin is staying under the radar. The sitcom star has really only been seen doing community service, according to Page Six. But it looks like Loughlin and Jade's relationship is stronger than ever. "I'm super close with my parents, especially my mom," the YouTube star said in an episode of Jada Pinkett Smith's "Red Table Talk." "She's like my best friend.
It looks like Jade is taking some inspiration from her "best friend" in more ways than just one. Get ready, because you might just do a double take when you see the social media star's new look. 
Olivia Jade new hair was inspired by Aunt Becky
Certain things just run in the family. From facial features to clothing eras, it's hard not to be inspired by a family member's past look. That's especially true when you're at the age of trying to find your own personal style, but Olivia Jade seems to have taken it above and beyond with her latest hair style. The YouTuber's new red hair is identical to Lori Loughlin's hair as Aunt Becky on "Full House."
The look is no coincidence, though. The 22-year-old "Dancing With the Stars" alum actually showed a photo of Loughlin to the hairstylist as inspiration. "Okay, this is the inspo," she says in her YouTube video as she holds up a photo of Loughlin on her phone. "My mom." It's safe to say that the stylist nailed the look because the two hair styles look exactly alike, from the wispy layers to the spot-on color. 
Jade isn't actually the first family member to rock the Aunt Becky look, either. Bella Rose Giannulli, Jade's sister, got her own version of the look back in December 2020, which looked equally as identical to the style that Jade rocks today. 
Lori Loughlin thinks the hair comparison is 'a bit creepy'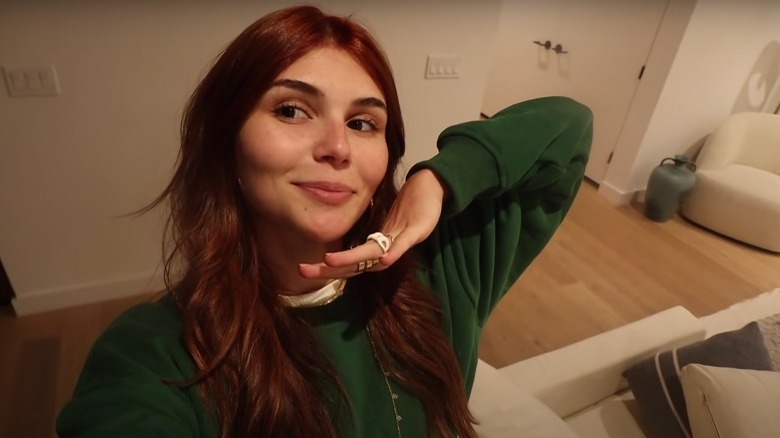 YouTube
Considering that Olivia Jade and her mom, Lori Loughlin, are so close, it really doesn't come as a surprise to think she could use her mom's past looks as hair inspiration. The 22-year-old social media star admitted that she didn't tell her mom before she decided to use her photo as inspiration. "I did not tell anyone in my family, except my sister, that I was doing this," she says in a recent YouTube video. "Mom, don't get mad at me. Technically you did it first." 
It turns out that it did come as somewhat of a shock to Loughlin to see how similar the two looked with the same shade of red hair. Jade posted a screenshot of her mom's reaction to her hairstyle, and the "Full House" alum's feedback pretty much sums up what the rest of the world is thinking. According to the screenshot, Loughlin responded by saying, "Well that's a bit creepy now isn't it haha!"
Jade is leaning into the look-alike hair comments herself. She posted a TikTok to the sound that asks, "Who is your celebrity Doppelgänger? I've never been told I have one," that shows her comparing her new red hair to a picture of her mom in the 1990s. Obviously, the two are clear lookalikes.
It's nice to see the family closer than ever, despite everything they have been through.