The 60's Inspired Hairstyle That's Taking Over The Internet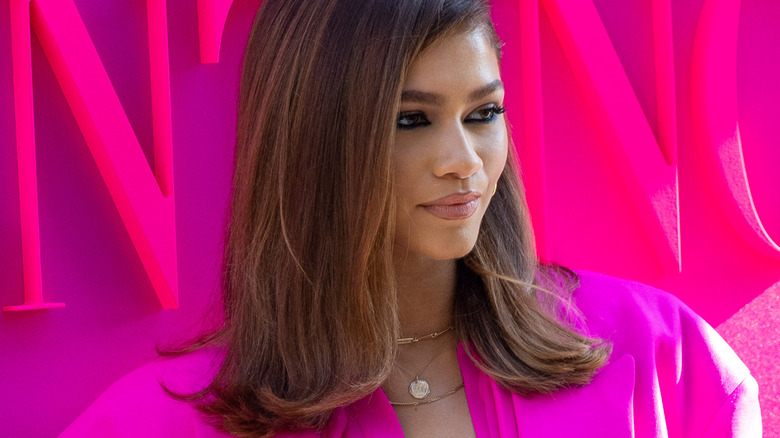 Arnold Jerocki/Getty Images
Spring is a time for change! Whether we're spring-cleaning our homes or upgrading our closets with lighter and flowy outfits, spring represents new beginnings. It's also a great time to upgrade your look by trying out a new hairstyle. As therapist Nikki Nachum told Allure, "A new hairstyle becomes almost like an announcement to both yourself and the outer world that something is changing in your life." While the pandemic may have put a damper on your style and beauty routine, now is the time to experiment with new hair trends. Why not go with an ombré or balayage look, or even try out those '60s curtain bangs you've been eyeing?
If you aren't ready for a dramatic new look, there are still plenty of cute hairstyles that give you a break from the messy updo that's synonymous with COVID-19. For example, Glamour recommends everything from baby braids to braided ponytails with colorful ribbons. You can also try accessorizing with butterfly clips or claw clips — styles which will instantly refresh your look without doing anything permanent. Another super-trendy hairstyle making a comeback this season is the hair flip with cute flipped-out ends.
The retro hair flip is fun and flirty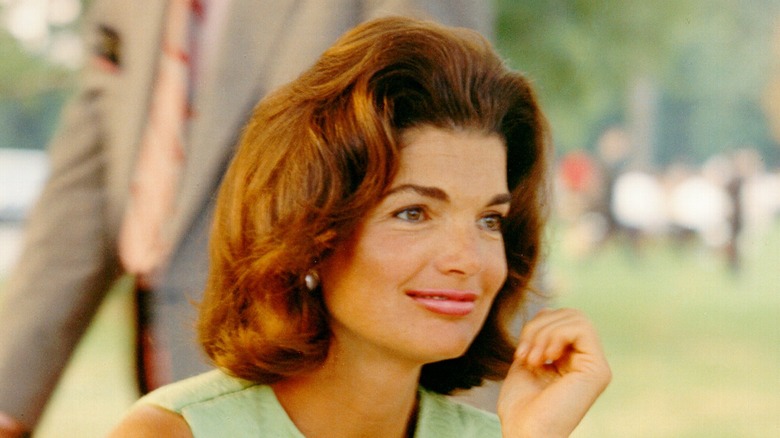 Michael Ochs Archives/Getty Images
Yes, Jackie Onassis' signature look — "the hair flip" — might just be the hottest trend in hair this season. TBH, this trend isn't technically new, but everything old is new again in fashion. Additionally, '90s fashion is hot right now, according to TODAY. Onassis' hair flip, was everywhere in the '60s, leading to a comeback in the '90s, this time with "flipped ends," according to Allure. Now, the hairstyle is back with a bang! To suit a more modern aesthetic, people are rocking the look by wearing their hair down, or in a ponytail with cute accessories.
Devin Toth, an NYC-based hairstylist at Salon SCK, told Popsugar that, "The hair flip — where it's a bob haircut or long hair in a pony — gives a cooler-than-school, '60s retro vibe." Today's spin on the style is smoother and straighter than its predecessor. The trend's slight or extreme "C shape" gives it its iconic flip. "It's a trend that feels like it's been gone for a while, so it feels really fresh, clean, and is a perfect spring vibe," London-based hairstylist Larry King told Harper's Bazaar. King also explained that the "low-maintenance" look is especially great for anyone with a bob or lob. If you're interested in channeling a '60s goddess with a contemporary twist, there are just a few simple steps to make the hair flip come to life.
Here's how to recreate the retro hair flip at home
Most celeb hairstyles look super easy, but can be a challenge to recreate at home. Unlike those looks that require professional help, achieving flipped ends for yourself is easy! Instead of heading to a beauty salon, take your cues from acclaimed hairstylist Larry King. According to King, "it's just a simple styling trick that can change things up to look really new," according to Harper's Bazaar. First, apply a little mousse for volume, and blow-dry. Next, "work the hair into a neat center or side parting, and use the round brush and hairdryer to flick the ends upwards." Top off the look with a little finishing cream to look extra sleek and put-together. Sounds pretty easy, right?
Another celebrity hairstylist, Ruslan Nureev, recommends blow-drying with a thermal round brush to achieve the flip on the ends of your hair, per InStyle. You can also touch up any frizz with a shine spray for additional smoothness ... and there you have it! With the right accessories, makeup, and outfit, the hair flip can be just as edgy or cute as you would like.