The Joey King Kiss Scene From The In Between We Can't Get Over
This content was paid for by Netflix and created by The List.

Joey King tugs on all of our heartstrings in "The In Between." In the film, the actress stars as Tessa, a talented teen who spends all her time solo at a vintage cinema and lurking around the wilderness in search of some perfect photography shots. As a foster child, Tessa has spent her life keeping people at bay, but everything changes once she meets Skylar (Kyle Allen), a handsome, kind, and highly intriguing young man who shares her love of old films and has a bundle of his own talents to speak of.
With Skylar, Tessa discovers something that's been missing from her life for as long as she can remember, and he even inspires her to take some new risks with her art. However, when tragedy strikes and Skylar is lost in a tragic accident, Tessa not only has to grapple with a broken heart, she also becomes convinced that her lost love is trying to send her a message from the beyond.
Throughout the film, King's performance is truly transcendent, as she makes us weep tears of both joy and devastation in equal measure throughout the movie. The actress also reminds us why she's still the reigning queen of screen kisses several times in the pic, so let's take a look at the one Joey King kiss scene from "The In Between" that we can't get over.
A perfectly imperfect pair
One of the most charming characteristics of the central couple in "The In Between" is that they're both flawed in some truly beautiful ways. Tessa has a hard time lowering her emotional shield and letting people in, choosing to speak through her photographs but refusing to share them with others. Meanwhile, Skylar struggles with a bit of indecision and guilt over his family's personal struggles and has trouble letting go, and, let's face it, he's an awful harmonica player.
Given their perfectly imperfect natures, it's highly fitting the two often spend their time together in settings that aren't the usual idyllic locales in their small town of Avalon — but they somehow become picturesque as soon as these adorable love birds show up. For example, take the ultra windy night at the beach when they have to cling to one another in the lifeguard stand to keep warm for the fireworks show. Or then there's the emptied-out movie theater where they first meet, and Skylar serves as a human subtitler because the film, "Betty Blue," is all in French. In both places, there's a unique quietude and bygone-era feel to the settings that naturally put Tessa and Skylar at the center of the entire world, making their connection even more profound and captivating.
The two bond over the notion that the greatest romance stories of all time ultimately have unhappy endings, and right from the start of their story, we know they're already barreling towards a tragedy of their own. The beauty of their tale, though, is in focusing on the journey, not the destination.
A place for lovers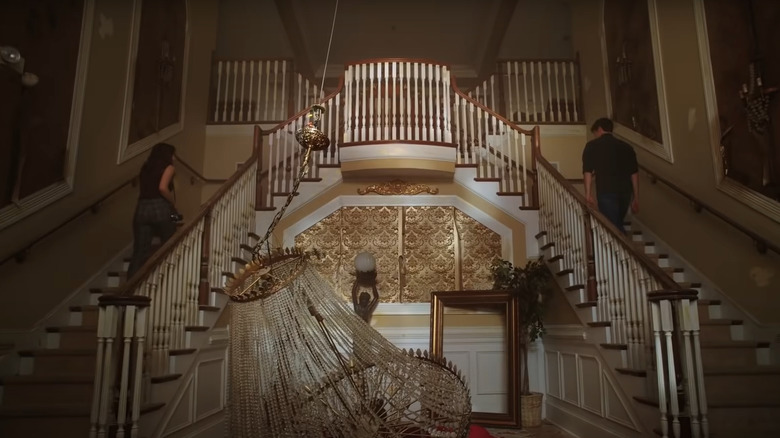 Netflix/Paramount+
Tessa and Skylar's journey eventually takes us to the setting of the screen kiss that still has us swooning, even though it's one of the most unusual places of all — an abandoned, creepy hotel that's somehow majestic and truly alive when the two of them explore the place together. Yes, the Empyrean was once a hotspot for honeymooners, but its glory days are far in the past ... until Tessa and Skylar decide to explore it. Tessa has already braved the rundown hotel to take some photos on her own, but seeing it again with Skylar by her side magically revives the romance that's been missing from the place for so long.
From the second they step foot onto the Empyrean's fenced-up grounds, the mood changes from more-than-friendly interest and flirtation to one of deep, joyous connection. From their pantomimed tennis match on the grass-strewn court to Skylar plucking a flower for Tessa from the vibrant overgrowth in the lobby to him teaching her to waltz in what was perhaps once a lavish ballroom, this is an adventure like no other for the budding lovers.
A kiss for the ages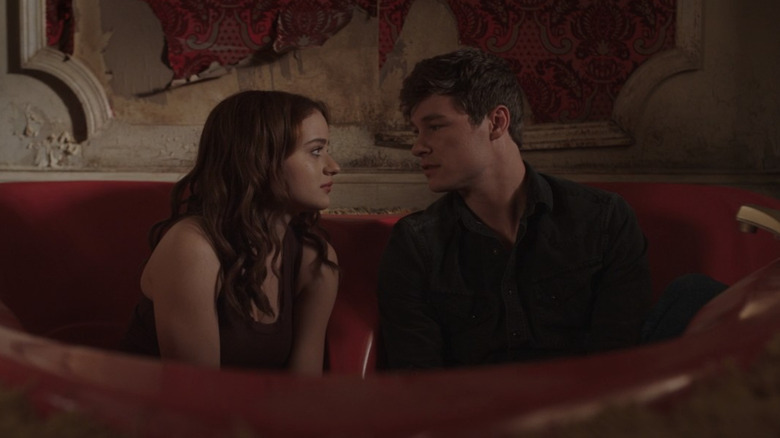 Paramount+
When Tessa and Skylar scale the paralleling stairs at the Empyrean, soaking each other in from a slight distance as they head towards the suites above, it's clear that something real is blossoming between them. Tessa makes the moment even more extraordinary and personal by showing Skylar a lovely little visual installation she's made to replicate the view of a camera lens, which is the first time she's shared a piece of her artwork with almost anyone outside of class.
The two eventually find themselves relaxing together in a heart-shaped hot tub, surrounded by peeling wallpaper and broken walls, topped with a cheesy overheard mirror. And, naturally, they embrace the eeriness of the scenery by chatting about the "ghosts of newlyweds past." Tessa jokingly imitates what's being said by the long-gone couples that once occupied this space. Though this exchange first begins with some of that signature humor and impressions that have made Joey King such a mainstay of romantic comedies like "The Kissing Booth" series, the tone takes a more tender turn when she channels the bride to say, "You haven't even kissed me yet." She might still be in character, but there's a second meaning to her choice of faux dialogue. Tessa is also inviting Skylar to fulfill that request in real time, and he obliges in an instant, resulting in a heart-swelling first kiss that we won't soon forget.
There are plenty of other screen smooches that make us melt throughout "The In Between," including a trip to vintage Paris and Tessa and Skylar's supernatural reunion in the place where they last shared a living kiss. But it's this first kiss, which brings life and love to a space that's otherwise filled with decay, that signifies why these two characters are so impossible to forget.