Here's How Sam Asghari Really Feels About Having A Baby With Britney Spears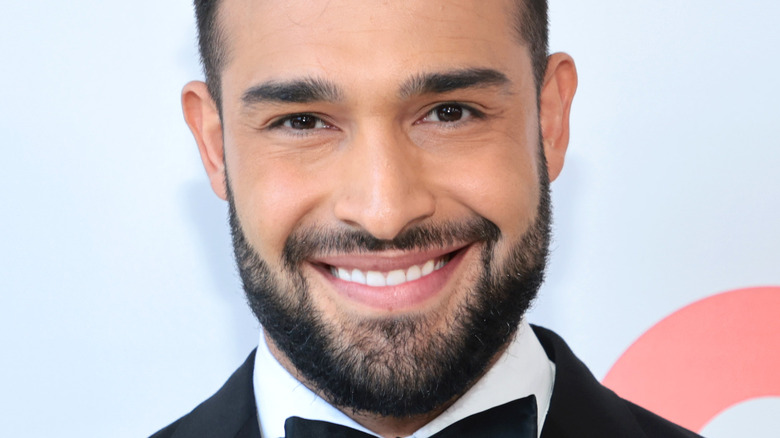 Jamie Mccarthy/Getty Images
In the frantic lead-up to Britney Spears' day in court, all eyes were on her long-time boyfriend, Sam Asghari. The man of the pop princess' affection, Asghari was relatively unknown, but the easy-on-the-eyes music video star stood by the singer's side as she battled it out with her father and conservatorship holders. In her emotional testimony, Spears related to the court that her entire being — not just her career — had been controlled by those who did not have her best interest in mind. Everything — from her therapy practices, to her medications, to her desire to have children — was not up to her.
"The control [my father] had over someone as powerful as me — he loved the control to hurt his own daughter 100,000%. He loved it," the "Toxic" singer testified, as per Variety.
In her emotional testimony, Spears additionally detailed that while under her conservatorship, she was forced to have an IUD to stop her from having another baby — a desire she greatly wanted. "This so-called team won't let me go to the doctor to take [the IUD] out because they don't want me to have children — any more children," Spears confessed. "So basically, this conservatorship is doing me way more harm than good."
But now, the singer's fortunes have changed and not only is she free from her conservatorship, but she reportedly has a baby on the way with Asghari.
Sam Asghari has wanted a baby with Britney Spears for years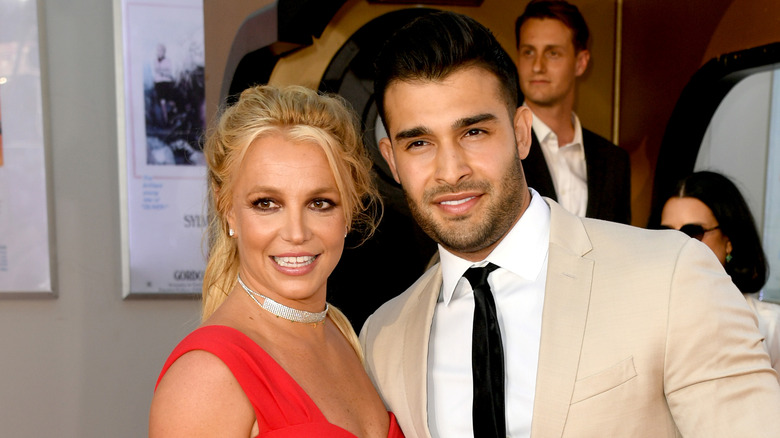 Kevin Winter/Getty Images
Ever since her conservatorship was terminated, Britney Spears has been living life out loud. Often taking to social media to call out her family members, share insights into her life, and detail her romance with Sam Asghari, the "Circus" singer is truly out here living her truth. And on April 11, the pop princess took to Instagram to share with her 40 million followers that she was expecting. "I got a pregnancy test ... and uhhhhh well ... I am having a baby," she wrote to a chorus of nearly 2 million likes. "Spreading lots of joy and love." Amid the exciting news, Asghari also took to Instagram and posted a sweet illustration of lions with their cub, writing, "Fatherhood is something i have always looked forward to and i don't take lightly. It is the most important job i will ever do," seemingly confirming Spears' pregnancy. 
So how does the 28 year old feel about being a father? When asked in a sit down with the BBC – conducted before Spears' announcement — if he was ready for kids, Asghari didn't mince his words. "Yeah, I mean this should have happened three years ago to be honest with you," he said. "When you're in a relationship with someone that you're truly in love with, you want to recreate and so this is something that I want to do."
The music video star was touched by the support Britney Spears had from fans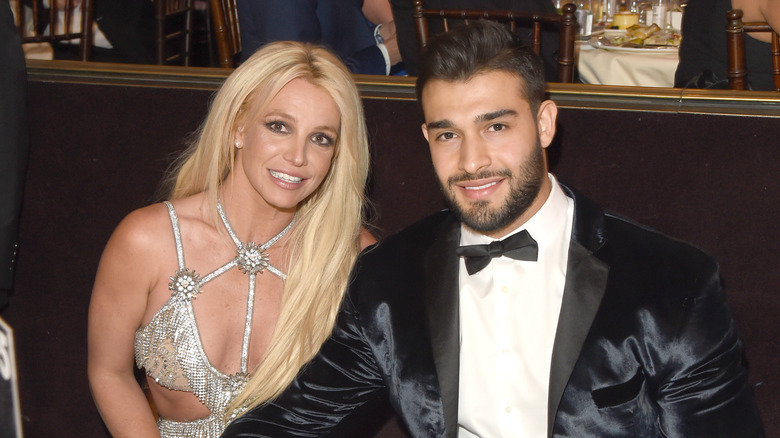 J. Merritt/Getty Images
Sam Asghari and Britney Spears crossed paths for the first time in 2016, when he was poised to star alongside the pop princess in a music video. In a sit down with Men's Health, Asghari detailed the experience, telling the outlet that he had "butterflies" meeting Spears for the first time. After bonding on-set and trading phone numbers, the pair sparked a relationship that's now lasted six years, endured legal battles, and braved public attention. As more and more people began to pay attention to Asghari amid Spears' conservatorship, it became clear that the pop star's best interests were at the forefront of his mind. By September 2021, three months after Spears testified in the court, the two were engaged.
Of his fiancée, Asghari gushed in an Instagram post, writing, "I call you Lioness because I admire your relentless strength, I'm inspired by your beautiful heart, I celebrate your smile that lights up my world." He further expressed his admiration for Spears during his sit down with the BBC, and took the opportunity to comment on the support the pop princess had among fans during her years under her father's thumb.
"I can only speak on my reaction, and it was phenomenal to see how everybody was so supportive and the whole world was engaged in it in a sense," Asghari said. Congrats to the happy couple and their growing family!