The Gilbert Gottfried Tweet That Carries A Whole New Meaning Following His Death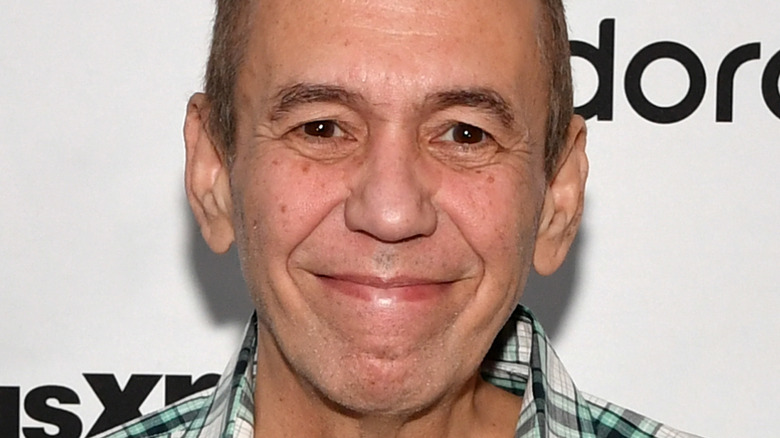 Slaven Vlasic/Getty Images
Shocking friends and fans alike, the heartbroken family of Gilbert Gottfried announced his death via his Twitter account on the afternoon of April 12, 2022. Calling him "the most iconic voice in comedy," they added, "Although today is a sad day for all of us, please keep laughing as loud as possible in Gilbert's honor." 
The comedian had been battling "a long illness," but he nonetheless had been working right up until the end of his life. Tweets from late March show that Gottfried had been in the midst of a stand-up tour in Canada; he also hosted a successful podcast called "Gilbert Gottfried's Amazing Colossal Podcast!" whose most recent live airing was on April 4 — just a few weeks earlier, he had offered an invite to Quincy Jones to appear on the show. Gottfried was also offering his distinctive grating voice to fans via Cameo greetings.
The news was only the latest in a string of sad celebrity deaths in 2022 (not to mention the loss of Betty White, who died just short of her 100th birthday). But this year seems to be a particularly tragic one for the comedy world. Gottfried himself recently posted a photo posing with two well-known comedians that is going viral for tear-jerking reasons. 
Gilbert Gottfried recently posted a photo with two other comedy legends
Shortly after the news of Gilbert Gottfried's death went viral, fans took to social media to express their shock and condolences. Going through his Twitter account, a few also noticed a particularly poignant post. On January 21, Gottfried posted a selfie he had taken with fellow comedy legends Bob Saget and Louie Anderson. Anderson had died that day at age 68 of complications from cancer (via The Washington Post), while Saget had passed less than two weeks earlier of head trauma following an apparent fall while on tour in Florida (via Rolling Stone).
"This photo is very sad now," Gottfried had tweeted. "RIP Bob Saget and RIP Louie Anderson. Both good friends that will be missed."
The thread of comments on the tweet are nothing short of eerie. At the time of the post, one fan wrote, "Please take your vitamins Gilbert." Another worried, "I hope you didn't just jinx yourself." Then there was this: "I swear, if I see Gilbert [Gottfried] trending in the next week due to his death I'm going back to bed for all of 2022." Now, the more recent reactions include one from a follower who mourned, "Now they're all together again." Another said, "Officially the saddest photo. RIP to three legends. I know you're all making the [heavens] laugh."