The Hidden Meaning Behind The Jewelry Victoria Beckham's Wore To Her Son's Wedding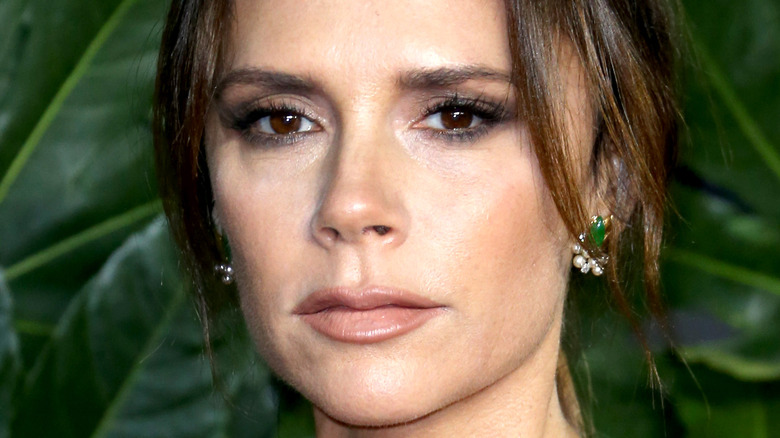 Cubankite/Shutterstock
David and Victoria Beckham's son, Brooklyn Beckham, is all grown up now. He recently married his fiancé, Nicola Peltz, in a beautiful Palm Beach, Florida, ceremony (via People). A source told the outlet that the couple had a traditional ceremony that paid heavy attention to their families, with whom both the bride and groom are close. Peltz's grandmother even served as her maid of honor. Plus, David and Victoria can share their long marriage secrets and tips.
The stunning ceremony took place at the Peltz family's luscious estate, and both the bride and groom were dressed to the nines, along with all of their guests (via Vogue). While everyone's eyes were certainly on the bride and her gorgeous Valentino wedding gown, it was hard not to admire the Beckham family, who all looked stunning as well.
Of course, the mother of the groom and former Spice Girls singer had fans dying over her wedding day look, but it turns out a piece of her outfit had a very special meaning.
Victoria Beckham wore a gorgeous necklace with a deep meaning
For Victoria Beckham, her son's wedding was a big day. Brooklyn Beckham is the first of her four children to tie the knot, and the Spice Girls vocalist couldn't be happier to add his wife, Nicola Peltz, to their family (via Today). She posted a beautiful snapshot of the couple to her Instagram with the caption, "Congratulations Mr. and Mrs. Beckham X Welcome to the family."
While her son and his new wife were the stars of the show, fans couldn't help but gush over how gorgeous Victoria was, including particularly loving her wedding day outfit. She wore a stunning silver gown, but all eyes were on her gorgeous necklace, which had a very special meaning to the Beckham family (via British Vogue).
The Beckhams had a diamond that was once gifted to Victoria from her husband, David, over two decades ago repurposed into the beautiful necklace seen at the event. The jewel was originally given to Victoria on the day of Brooklyn's baptism. The 21.5-carat rock was redesigned for a new special moment in their lives: Brooklyn's wedding.