What You Need To Know To Pull Off A Cool Yellow Blush
The changing of seasons marked by warmer temperatures and longer hours of daylight can have a profound effect on how we think and feel. At the first sign of spring, many of us long to ditch the sweaters and coats and break out our spring wardrobes, which also calls on us to switch up our hair and makeup styles.
After all, spring and summer typically signal light cosmetic colors like pinks and peaches for lipsticks and blushes. Though there are some summer make-up trends you should totally skip, a bold move may be to go for a color you've never tried before. Believe it or not, yellow can actually work as a cool spring and summer blush option.
Putting on makeup and changing your look should be fun. In fact, makeup artist Huda Kattan told Vogue, "In the past, makeup was all about hiding and covering up imperfections, but now it's going to a place that's all about self-expression and doing something just for you."
So, if you have an urge to try out a yellow blush but are worried you won't be able to pull it off, don't sweat it. Here's what you need to know.
Why yellow blush will work for you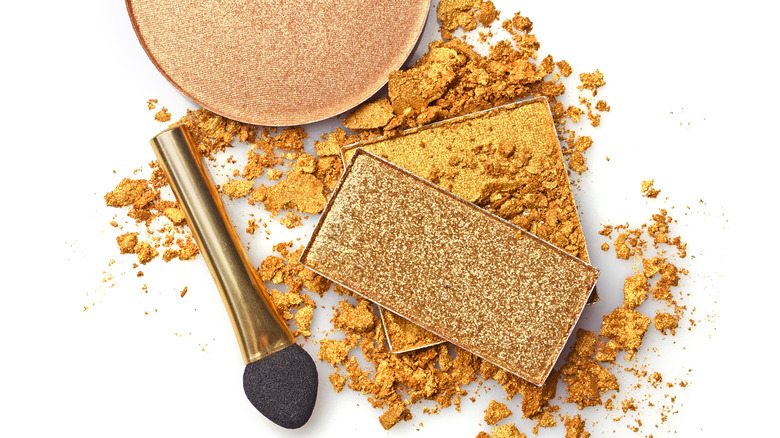 Chursina Viktoriia/Shutterstock
It's easy to look at models on the runway and think their look good on them but could never possibly look good on us, but that mentality keeps us from experimenting with different makeup. Still, life is most certainly meant to be lived. While wearing makeup every day does have an effect on your skin, perfecting a new trendy look can be a lot of fun.
That being said, consulting experts helps figure out what's right for you. According to Allure, yellow suits everyone, and the reason is simple: No matter the shade and temperature of our skin, we all have some yellow undertones.
You also don't have to pick a blinding neon yellow shade and can instead opt for a more subtle lemony shade. While yellow blush has become more popular, you may not find it in your typical makeup palette (via PopSugar). However, you can use yellow eyeshadow in its place, or even mix and match that with your current blush stash to produce a light, peachy yellow look.
Try draping or go for yellow eyeshadow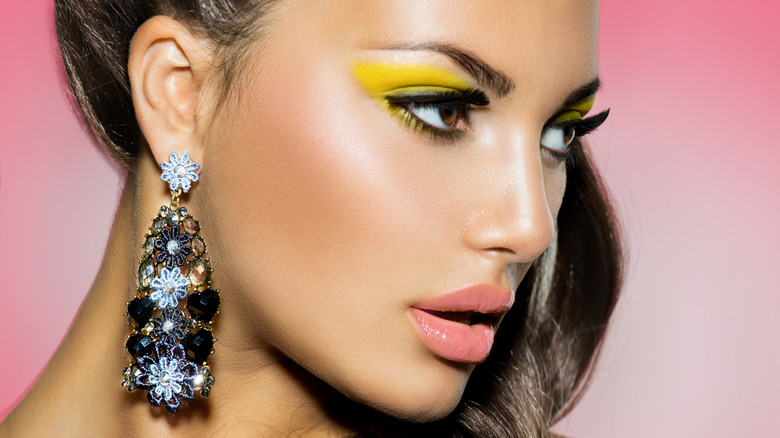 Subbotina Anna/Shutterstock
Unlike traditional blush that typically goes on the roundest part of your cheeks, yellow blush looks best when applied across the cheekbones and even on the temples (via Bustle). This is known as draping. Blush draping was originally a '70s makeup technique created to help contour the face. It was thought to boost the natural bone and facial structure to create a full, finished look (via Glamour).
However, if yellow blush still feels too risqué, consider trying a golden eyeshadow instead. You can choose colors ranging from mild pastels for everyday wear to a bright sunny marigold for a day out. If you want to go really bold, try a neon yellow eyeliner to accompany a lighter mustard shadow (via Byrdie). If your favorite color is yellow or you simply want to delve into yellow colors this season, the makeup mixes and matches are endless, so have fun trying out different variations of lip, eye, and cheek color.