It Looks Like Liza Minnelli Is Brushing Off Her Hotly Debated Oscars Appearance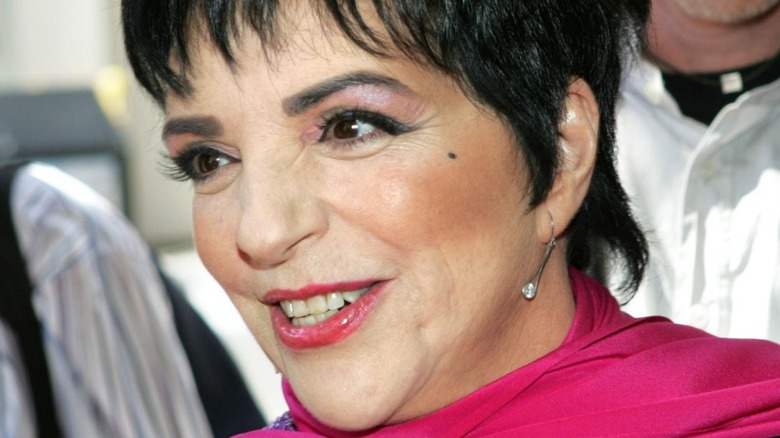 Everett Collection/Shutterstock
The 2022 Oscars was memorable for all of the wrong reasons. Apart from the fact that viewers were turned off before they tuned in, the awards ceremony was plagued by bad moment after bad moment: The infamous slap that resulted in Will Smith being banned from the Oscars for 10 years, a lackluster moment of silence for Ukraine that, per TMZ, left fans rattled at its brevity and tameness.
One month later and it seems like the 2022 Oscars can't escape public scrutiny. Legend Liza Minnelli's surprise Oscars appearance — which Entertainment Weekly reports came at the request of pop icon Lady Gaga — won the world over, reports Buzzfeed News. But what was originally praised as a touching moment between the presenters, has turned into something uglier. Grammy-nominated singer and pianist Michael Feinstein, a close friend of Minnelli, revealed that she was forced to appear on stage in a wheelchair. During an April 20 appearance on "The Jess Cagle Show," Feinstein called the Oscars moment "sabotage" and claimed that Minnelli originally asked to sit in a director's chair. According to Feinstein, the Oscars agreed at first, but then went back on their word right before she was set to present.
Liza Minnelli was in good spirits at dinner with icon Dame Joan Collins and Michael Feinstein
Liza Minnelli seems to be taking the Oscars drama in stride. In an April 21 Instagram post, Michael Feinstein treated fans to an update on the star. Per Page Six, he posted a sweet photo of him dining with Minnelli and icon Dame Joan Collins. In the photo, Minnelli's smile is on full display as she enjoys her friends' company. Feinstein captioned the post "Had a lovely time last night with these two ladies."
Daily Mail reports that once dinner ended, Minnelli took a smoke break with Feinstein before she was escorted to her car in a wheelchair. Fans responded positively in the comments section and celebrated the trio's friendship. The "Cabaret" star has yet to comment publicly on the Oscars mishap, but it appears as if she isn't letting it stop her from living her best life.