Lindsay Hubbard Shares Touching Recap Of The Day Things Took A Romantic Turn With Carl Radke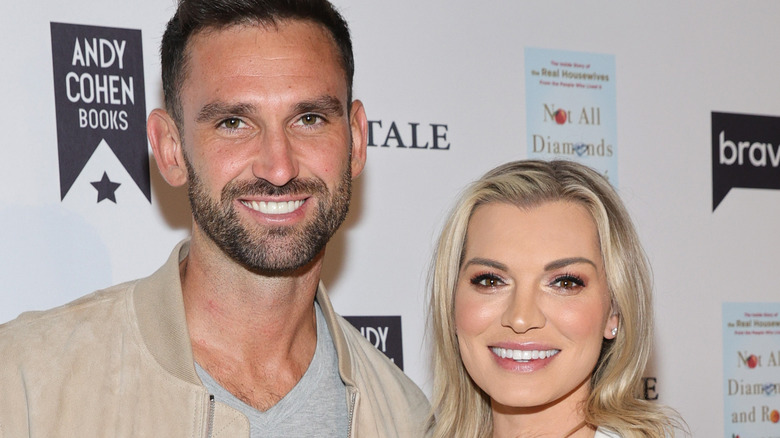 Jamie Mccarthy/Getty Images
The second that reality stars Lindsay Hubbard and Carl Radke confirmed that they were dating, Bravo TV fans everywhere rejoiced, per Entertainment Tonight. 
When you watch a show like "Summer House" from its very beginning — and witness the tumultuous journeys that both Lindsay and Carl have been on over the past five years — it is heartwarming to watch them find their way to each other.
As close friends, they've weathered breakups, family deaths, miscarriages, and Carl's journey to sobriety. Through it all, they've been by each other's side and even indulged in a mini-fling that fans desperately hoped would blossom into something. 
Well, it's finally happened. They've given viewers a real-life version of the best-friends-to-lovers fantasy, and they couldn't look happier. 
The long-awaited couple has given fans countless cute moments to fawn over, like when Carl gushed about her to Entertainment Tonight. "I feel like we're just a great team," he said. "We have respect for each other. We communicate really well. We have a ton of fun, but we formed this amazing bond and incredible friendship that now that we've unlocked the romantic part." 
Meanwhile, Lindsay shared her own fairytale-esque thoughts about the relationship with Page Six. "We've always had this thing for each other," she said. "Sometimes you'll look back and be like, 'Was I just filling the time until I was ready and he was ready?'" 
Just when you thought they couldn't get any cuter, Lindsay has given fans the full scoop on the moment they went from friends to lovers.
Carl Radke and Lindsay Hubbard fell for each other at prom
While Season 6 of "Summer House" continues to air, viewers have been eagerly seeking hints about the burgeoning romance between Carl Radke and Lindsay Hubbard. What seemed like yet another randomly themed "Summer House" party actually turned out to be the beginning of their fairytale. 
Lindsay shared an adorable Instagram photo of herself on Carl's shoulders from the prom party with the simple caption that sent fans into a frenzy, "Where it all started." 
Could it be? Was this the night that started it all? Lindsay didn't hold back and shared a series of Instagram Stories detailing the night, per Bravo TV. She explained how the two were each other's dates to the faux prom simply because they were both single. "But the universe had different plans," she said.
Sharing cute snippets of the two exchanging corsages and laughing throughout the night, Lindsay gushed, "[Carl] was so damn handsome ... so sweet ... so thoughtful ... He had me cracking up ALL day."
Fans couldn't get enough of the adorable story that kept getting cuter. "My heart was beating faster, and something just felt different," Lindsay said. "Anyway, you get the point! Something just clicked in a different way, at the same time, for both of us at prom."
This romance seems like the makings of a movie. Best friends finally realize they're meant for each other years later at an adult prom? You couldn't write anything sweeter.