Expert Claims Prince Harry Knew He'd Get A Rise Out Of The Royal Family With Recent Comments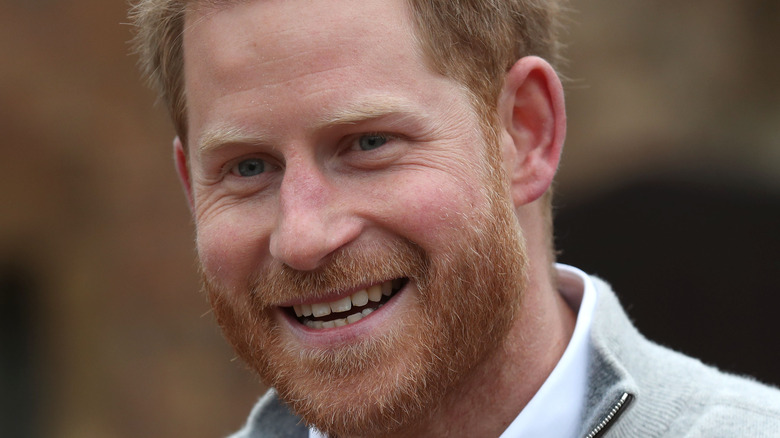 Wpa Pool/Getty Images
Prince Harry's comments to the press have a history of causing conflict within the royal family. In January 2020, when Harry and Meghan Markle announced their impending exit from the monarchy, both the public and senior royals were surprised. 
"I don't think any of this information certainly that's been listed on their website was shared with the senior members of the royal family, and that's where they were blindsided," Victoria Arbiter, a royal analyst, told "Today."
The Duke of Sussex disagreed with this assessment. During the couple's landmark interview with Oprah Winfrey, Harry said (via People), "No, I never blindsided my grandmother. I have too much respect for her."
The duke added that Prince Charles asked him to put the details of their exit in writing, along with a proposed date, and he complied with his father's request.
Recently, Harry made headlines when he and Meghan stopped in England for a secret visit with Queen Elizabeth on their way to the 2022 Invictus Games. During the games, "Today" host Hoda Kotb interviewed Harry, who stirred things up yet again with what he didn't say about missing William and Charles and what he did say about the queen.
Prince Harry claims a special relationship with Queen Elizabeth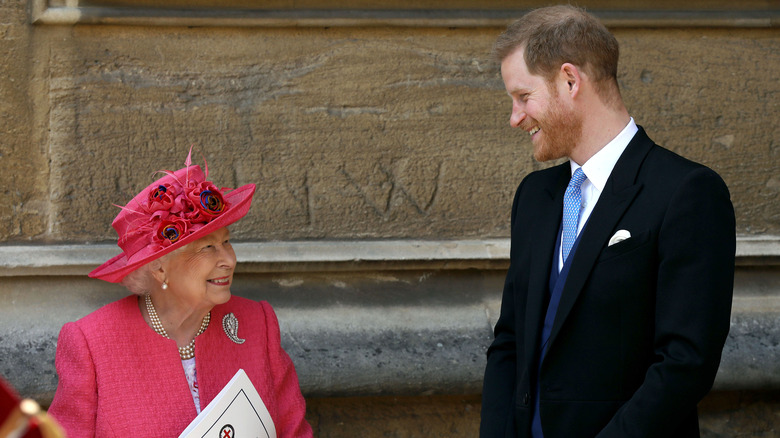 Wpa Pool/Getty Images
Speaking with Hoda Kotb on NBC's "Today," Prince Harry talked about his visit with Queen Elizabeth on the way to the Invictus Games. "We have a really special relationship," he said. "We talk about things she can't talk about with anyone else."
On "The Royal Beat," royal expert Roya Nikkhah reacted to Harry's statement. "That comment was quite triggering for the rest of his family, who are around the Queen all the time and I'm sure who the Queen does confide in quite a lot," she said, per the Daily Mail. 
While Nikkhah agrees that the queen and Harry share a unique, loving bond, she felt that Harry's words were intended to stir things up. 
"Knowing these comments are going to go around the world, and come right back at your family, that the Queen tells Harry things that she feels she cannot tell any other member of her family who see her much more regularly — it just felt quite incendiary," she said.
While Harry didn't divulge any specifics about the topics he and his grandmother discuss in private, he did mention what he likes most about the queen. "Her sense of humor and her ability to see the humor in so many things," he told Kotb.
Harry and the queen bonded over humor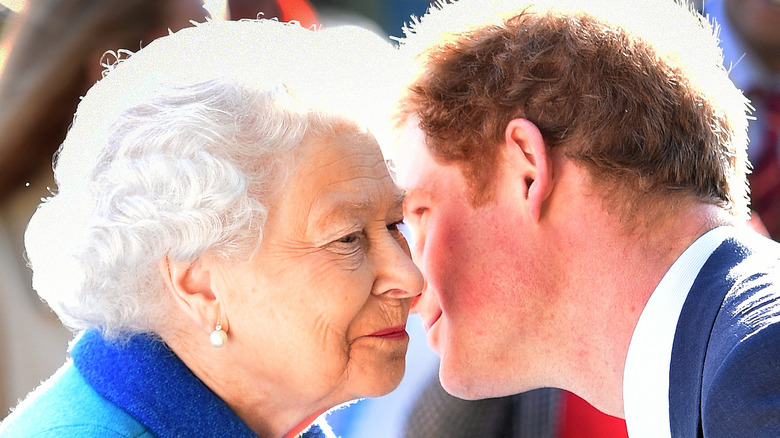 Wpa Pool/Getty Images
As George W. Bush will tell you, Queen Elizabeth is different when the cameras aren't rolling. She's known for her dry wit and zingy quips, such as when she joked about visiting the U.S. in 1776, playing off a slip-up made by the 43rd president. 
She also appreciates humor in others, such as her late husband, Prince Philip. "I could hear her guffawing. You didn't realize she had that hearty laugh," a palace associate told author Sally Bedell Smith about the couple's interactions, per Vanity Fair.
As a youngster, Harry's funny side came out through pranks and wild antics. After giving his grandmother a lesson in how to text, Harry reportedly borrowed the queen's cellphone and charged her voicemail message.
"Hey, wassup? This is Liz!" said the new message, according to royal author Bryan Kozlowski (via Marie Claire). "Sorry I'm away from the throne. For a hotline to Philip, press one; for Charles, press two; for the corgis, press three."
"Harry was the only one who could trick his granny," says former royal butler Paul Burrell. He recalled the young Duke of Sussex putting fake flies in the sugar while Prince William and the queen enjoyed afternoon tea. "It was hilarious," Burrell said, per Express. "I know the Queen very well and I know she's very fond of Harry."