The Truth About Octavia Spencer's Haunted House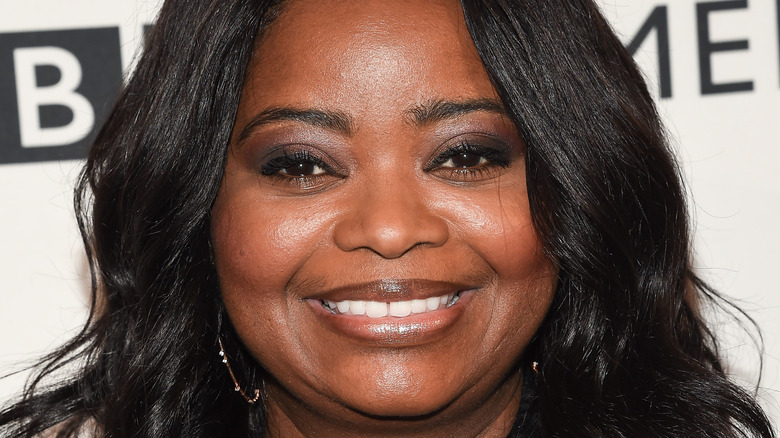 DFree/Shutterstock
Octavia Spencer is a prolific actress, starring in unforgettable films that snagged her two Oscar nods — "Hidden Figures" and "The Shape of Water" — and her first Oscar win for "The Help." Spencer has also tried her hand at voiceover work in projects like "Zootopia," comedic acting on the series "Drunk History," and cameos as herself on "Black-ish" and "30 Rock." The star even took a stab at the horror genre in the 2019 film "Ma."
In an interview to promote her film "Encounter," which deals with extraterrestrial life and potential space invaders, Spencer opened up to talk show host Ellen DeGeneres about her own ghostly experiences. Octavia Spencer is far from the first celebrity to experience a ghostly encounter at home, as she is in the company of other stars like Jenny Slate, and those featured in Howie Mandel's new docuseries, "Famously Afraid," per Showbiz Cheat Sheet. 
Per TODAY, Spencer bought her house in Toluca Lake, Los Angeles, in 2013, and it was built in 1927. The vintage home includes hardwood flooring, Spanish-style roofing, and an ideal location nearby local vendors. The home sold for less than a million, which is unusual for a celebrity property — but with all of Spencer's spooky stories about living there, perhaps there was a haunted house discount included with her purchase. 
The actress is a fan of her unusual roommate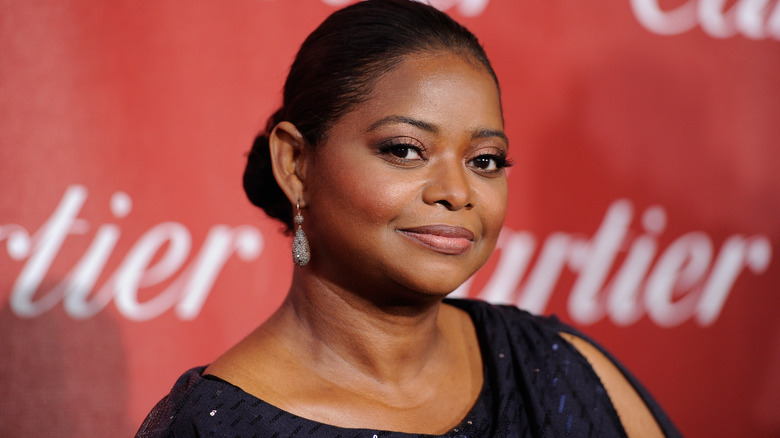 Frazer Harrison/Getty Images
In an appearance on "The Ellen Show" in 2021, Octavia Spencer shared that outside her work in the spookier genres, her home life has its fair share of horror film elements. She told Ellen DeGeneres that she shares her home with a ghost who has hinted at his presence with typical paranormal behaviors — he will open and close doors and turn off lights of his own volition when she's away from home shooting for too long. The actress explained what she's believes about the presence's identity saying, "I grew up watching Westerns, and I bought this house, and it was owned by a guy who did Westerns, so I must have been a fan of his." 
Spencer grew up in Montgomery, Alabama, and in 2012 was given an honorary day in her hometown, per CBS News. She even spoke at the event and expressed that more movies should be shot in Alabama, an ideal country-Western backdrop. 
Beyond Octavia Spencer's shared interests with her ghost, the actress also explained that their cohabitation is mutually beneficial. "He doesn't haunt me, we have boundaries. I think he is my protector. I love him, because he kind of sorts out the bad people that shouldn't be there ... He runs them out." However, not all of Spencer's house guests are scared away. The actress told DeGeneres that her home is a comfortable hub for her close friends and others who match the home's energy.
Octavia Spencer believes in a range of otherworldly lifeforms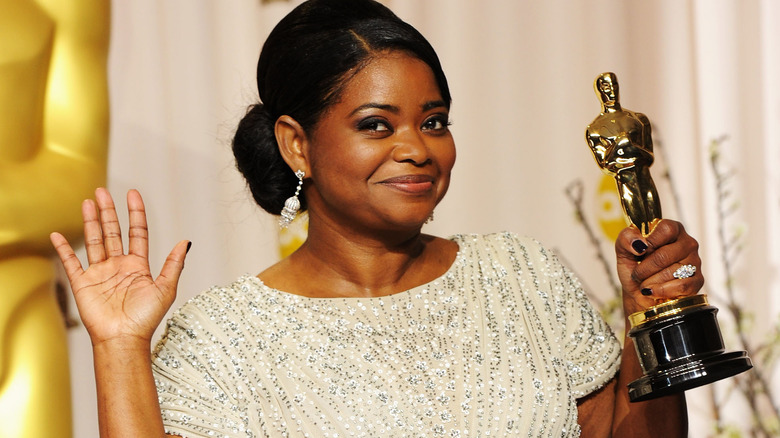 Jason Merritt/term/Getty Images
Octavia Spencer isn't only serious about paranormal activity — she also has an interest in extraterrestrial life. In their 2021 interview, she and talk show host Ellen DeGeneres both admitted to believing UFOs, and Spencer even brought an inexplicable video to "The Ellen Show." Spencer caught the footage while she was filming her 2021 film, "Encounter," and shared that the film's entire crew was there for the bizarre moment. She admitted, "I've always wanted to have a close encounter, but that was a little too close on a movie called 'Encounter.'"
The host showed the video, which featured small orange lights in the sky that appeared suddenly from an unseen source. Spencer explained, "All of a sudden, there were all these lights in the sky ... they started getting smaller and smaller." The shape and orientation of the lights also appeared to change quickly, flexing into strange patterns that didn't look like a plane or other man-made vessel. Spencer excitedly told the talk show host, "See, look, look!" when the lights shifted drastically. 
The actress then became bashful about her investment in the video — but the audience laughed with her, and DeGeneres seemed convinced that the actress had successfully captured otherworldly life on video. Spencer joked, "I just hope the 'Men in Black' don't come for me," referencing the fictional FBI agents who are sworn to protect the secret of extraterrestrials' existence.