Are JoJo Siwa And Kylie Prew Back Together?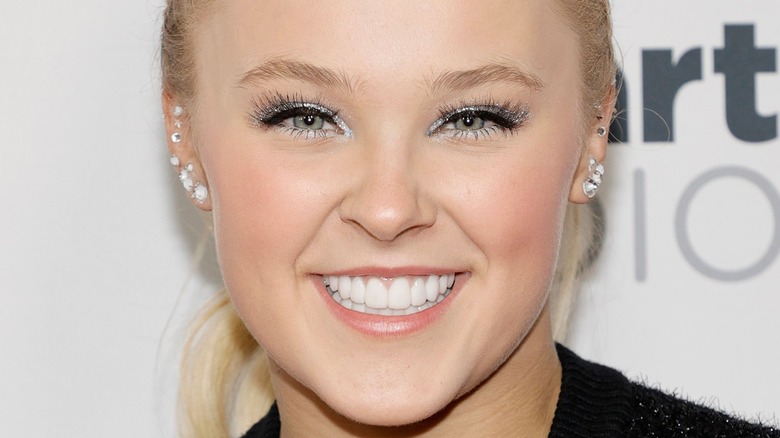 Amy Sussman/Getty Images
Until 2021, JoJo Siwa was known as a sparkly, ponytailed personality adored by those aged 12 and under. The singer and dancer first found fame as a child when she appeared on "Dance Moms" and has since built up a loyal, and notably young, fanbase on social media (via IMDb). Aside from being a talented dancer and bubbly entertainer, Siwa added another line to her reputation in January 2021: LGBTQ+ icon. The then-17-year-old revealed in an Instagram live stream that she had always loved people regardless of their gender and didn't have an exact label yet for her sexuality.
Shortly after coming out publicly, Siwa told fans that she had a girlfriend named Kylie Prew. When discussing her sexual orientation with People, Siwa even joked that she was "Ky-sexual," inspired by her girlfriend's name. The former "Dancing With the Stars" contestant explained on her mother's podcast that she met Prew on a cruise and instantly felt comfortable opening up to her. They made their relationship official by January 2021, and to honor their six-month anniversary, Siwa wrote on Instagram that their time together had been "by far... the Best 6 months ever."
However, only a few short months later, Siwa and Prew called it quits. Siwa first confirmed in a November 202 episode of Paris Hilton's podcast "This Is Paris" that the two had broken up. However, there's new evidence that Siwa and Prew may have since reconciled.
JoJo Siwa and Kylie Prew were pictured together
When JoJo Siwa opened up on Paris Hilton's podcast about her split from girlfriend Kylie Prew, there appeared to be no hard feelings. Siwa said about Prew, "She's literally still my best friend," and that their breakup was a case of bad timing, rather than a major fallout. Still, after Siwa was rumored to be dating TikTok star Katie Mills (per Paper) in December 2021, reconciliation between Siwa and her ex seemed unlikely—until now.
In March 2022, Siwa appeared on the "Rachel Uncensored" podcast where she explained that she's no longer single, though she didn't disclose who she was dating. Then, Extra asked Siwa if she got back together with Prew after some speculated the two rekindled their romance. Siwa responded coyly about Prew, saying, "I mean, listen, I will [answer this] one day... I'm not saying yes or no... I should have told her I was doing press today and asked her what she wanted me to say."
Now, the two have been spotted together at Walt Disney World in photos posted to Siwa's father's Instagram account. In the photos, JoJo, Prew, and Tom Siwa hold hands and are all smiles while riding Disney World roller coasters together. One photo, in particular, shows JoJo making a puckered kissy-face in Prew's direction. Though she hasn't recently posted any photos with Prew on her own Instagram account, we may soon get an official relationship update from the queer queen herself.