Fans Are Praising Cara Delevingne For The Brave Thing She Did At The Met Gala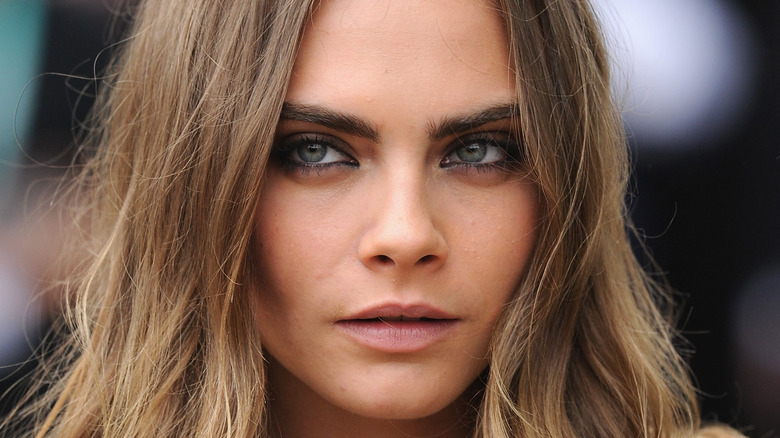 Stuart C. Wilson/Getty Images
There were lots of fun talking points from this year's otherwise underwhelming Met Gala, from Kylie Jenner's conversation-starting after party dress about her actual look, to Jenner's sister, Kim Kardashian making fashion historians see red after wearing Marilyn Monroe's iconic "Happy Birthday, Mr. President" gown. As usual, there were also plenty of 2022 Met Gala looks that missed the mark, which is all part of the fun.
But Cara Delevigne is generating headlines for what she opted not to do, rather than what the supermodel actually wore (or didn't wear, considering her show-stopping, near-topless look on the night). As Page Six reports, Delevigne was decked out in head to toe Dior Haute Couture. The British star chose a chic matching red tailored suit for the glitzy event, and at one point Delevigne took off her blazer to spectacularly reveal her gold-painted torso. 
She accessorized with pasties for modesty and glittering gold body jewelry. In a red-carpet interview with Variety, the supermodel quipped, "I did a reveal of my boobs, but not the nipple since I still have to hide those apparently." And yet, fans can't stop cheering her on for what Delevigne bravely decided not to hide on the night. 
Cara Delevingne refused to cover up her psoriasis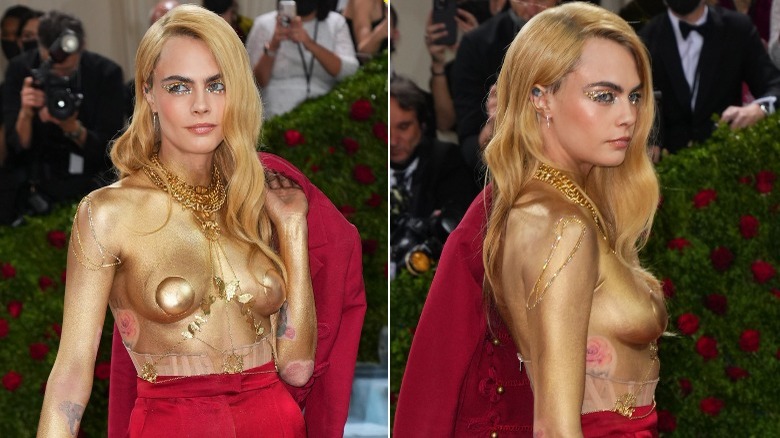 Gotham & Gotham/Getty
Despite Cara Delevigne's raunchy Met Gala look, all eyes were on her psoriasis, which the in-demand model boldly put on full display for the watching cameras. Delevigne notably didn't cover up the flaky, inflamed patches of skin on her elbows with gold paint, likely in a bid to stop her skin from being irritated any further. Fans online cheered the move, with one writing, "Cara Delevigne leaving her psoriasis visible in her met gala look is so validating to me," while another noted, "Psoriasis is not something to be ashamed of." They added, "It's wonderful how Cara Delevigne used a platform like the Met Gala to raise awareness about this chronic condition."
The British star has been open about her struggles with the skin condition over the years, telling W Magazine in 2013 that modeling actually exacerbated it. "I want to make music, I want to act, I want to sing, I want to do something that doesn't make my skin erupt," she admitted at the time. In fact, Delevigne subsequently told The Times (via Buzzfeed), "I am not doing fashion work anymore, after having, like, psoriasis and all that stuff." The "Paper Towns" star added sagely, "Modeling just made me feel a bit hollow after a while. It didn't make me grow at all as a human being."