The Ultimatum's Madlyn And Colby Have Happy Family News
One day a name can mean absolutely nothing to you, and then one binge-watched television show later, you're fully invested in these strangers' lives. If ever there was a show that made this statement true, it's Netflix's "The Ultimatum." The show took six couples and turned them into people's life-long friends. Therefore, it only makes sense that people are fully obsessed over the love story that was Madlyn Ballatory and Colby Kissenger. The couple took fans on an emotional rollercoaster, and it looks like they still are even after the cameras have stopped rolling. Colby even revealed why he thought going on "The Ultimatum" was a good idea in an exclusive interview with The List.
If Netflix's "The Ultimatum" taught us anything besides the signs of toxic dating traits, it's that if you're going to convince someone to marry you, do it right away. In case you didn't make it all the way to the ending, Colby turned his proposal into a full-blown wedding before Madlyn could change her mind. It ended up working out extremely well for the pair, who showed up pregnant to "The Ultimatum's" reunion.
Now, the two are keeping fans at the edge of their seats once again with some happy family news that fans are waiting to see to believe. 
Madlyn and Colby have a baby girl
It's official! Not only does "The Ultimatum" apparently work, but it also creates families — literally. According to E! News, Madlyn Ballatori gave birth to a healthy baby girl on May 5. After just one year of marriage, the two went from party-pair to parents and seem happier than ever, despite a rocky start — heck, and middle and end — on the show. 
"Baby girl is healthy and perfect and we will be bringing her home tomorrow," Madlyn said in a May 5 post on her Instagram Stories, according to E! News. "We've been snuggling in the hospital bed trying to rest as much as possible and reflect on this incredible gift." The pair has chosen not to share a photo of their child at the time of publication. They also are calling her "baby girl" for the time being as well.
We have our fingers crossed that they reveal their bundle of joy's name soon. After going through a ride of a lifetime with them on "The Ultimatum," people are dying to know what they named her, after all. "Every day I wake up and check if Colby and Madlyn have had their baby yet because I simply must know what silly name they give her," one Twitter user said following the announcement. 
This likely won't be the last Ultimatum baby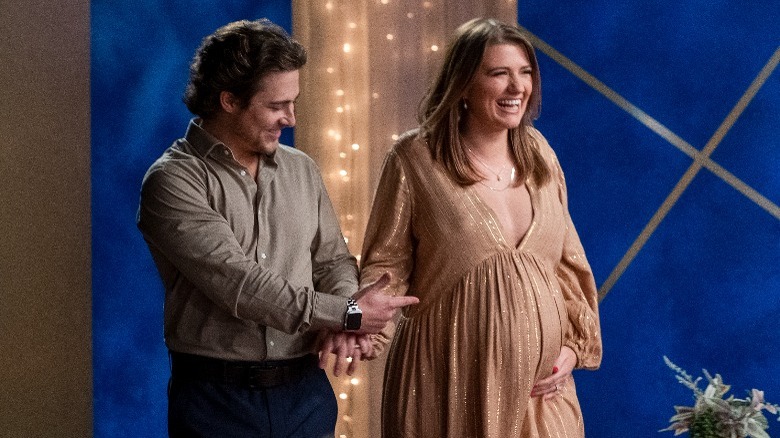 Netflix
This might be the first baby from "The Ultimatum" cast, but it will likely not be the last. Madlyn Ballatori and Colby Kissenger both gloated on "The Ultimatum" reunion about how well the pregnancy is going for both of them. Madlyn echoed similar feelings in an Instagram post, talking about how much pregnancy has truly changed her life, body, and relationship with Colby for the better as well.
"This pregnancy has completely transformed me," the 24-year-old said in the Instagram post. "Not only physically as I've completely shape-shifted.... but mentally, spiritually, and emotionally as well. It has grown an even deeper love than I knew possible with my partner as well as an incredible innate connection with my body and my daughter inside me." If all of this is any indication, the 24-year-old will likely be having plenty more.
Here's to hoping parenthood is just as blissful for the pair as their pregnancy was!