Sutton Stracke Opens Up About Where Her Relationship With Erika Jayne Stands Today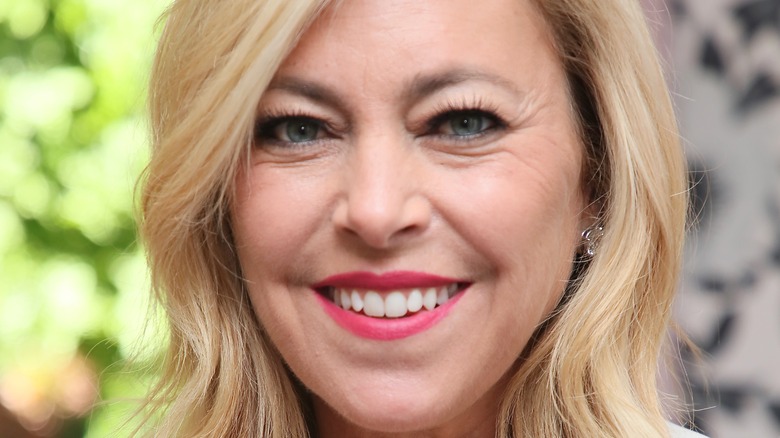 Robin L Marshall/Getty Images
The "Real Housewives" franchise is no stranger to legal dramas. From Teresa Giudice's arrest to Jen Shah's nationwide telemarketing scheme accusations, the ladies get up to a lot more than just fighting on international trips, per Us Weekly. That being said, Erika Jayne and ex-husband Tom Girardi's lawsuit seems to have whipped up a legal drama genre of its own. 
"The Real Housewives of Beverly Hills" fans got a season they will likely never forget with Season 11, as they got the chance to watch the fallout of Tom's court case and how it impacted Erika. The season spiraled from Erika filing for divorce, to Tom being accused of withholding clients' funds and Erika claiming she had no knowledge of any of his fraudulent behavior, per Vanity Fair. 
Not only did Erika tackle these issues on camera, but her cast-mates were forced to as well. And just like that, what began as yet another legal woe spiraled into an entire season's storyline and a case that left just about everyone doubting Erika. Vox put it best when they said, "'The Real Housewives of Beverly Hills' has become a true crime doc."
Erika's "friends" struggled as the story continued to unfold. The ladies wavered between attempting to support her through the difficult time and not trusting her, and paired with Erika's dwindling patience and tolerance, it was a recipe for disaster. But Sutton Stracke stood out and stood up the most, and her friendship with Erika paid the price.
Sutton Stracke and Erika Jayne have clashed repeatedly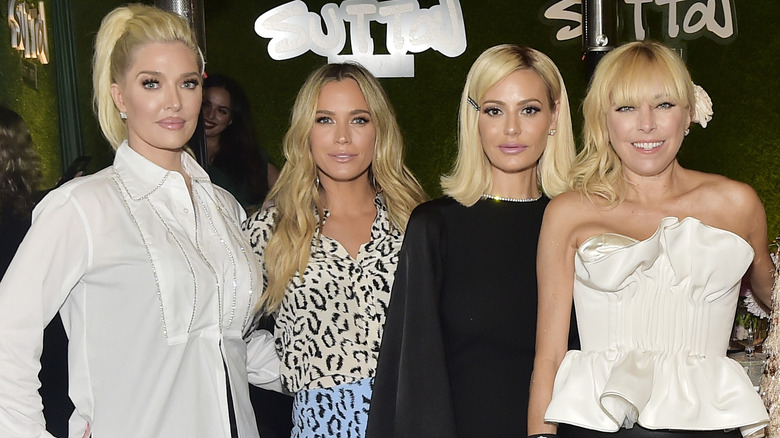 Stefanie Keenan/Getty Images
It is shocking to think back to the fact that Season 11 of "RHOBH" actually kicked off with Sutton Stracke supporting Erika Jayne through her messy divorce, to the point of planning a special spa day for her, per Screen Rant. Flash forward to a few episodes later, and no one could have predicted the chaos that would ensue between the two during the now infamous "Dinner Party From Hell: Part 2."
The cinematic masterpiece that is the above-mentioned dinner party is what sealed the deal on Erika and Sutton's fallout, with Erika screeching at Sutton to shut up and even throwing in a threat or two, per Entertainment Weekly. Fans struggled to fathom how the two could ever recover, and neither showed any desire to. 
The last time that fans got to see the duo was the "RHOBH" four-part reunion. Well, considering Erika used the occasion to call the SUTTON Concept store owner a "b***** f****** c***," no one is expecting the two to have made up, per The Daily Mail.
While fans patiently awaited Season 12 of "RHOBH," they got a little taster of drama before the trailer even aired. Stories began to circulate about an explosive fight during a filmed trip to Aspen, following which both Garcelle Beauvais and Sutton unfollowed Erika, per Page Six. While Sutton followed her again shortly after, fans are dying to know the latest on their frenemy-ship, and Sutton has officially dished.
Sutton Stracke 'enjoyed moments' with Erika Jayne during Season 12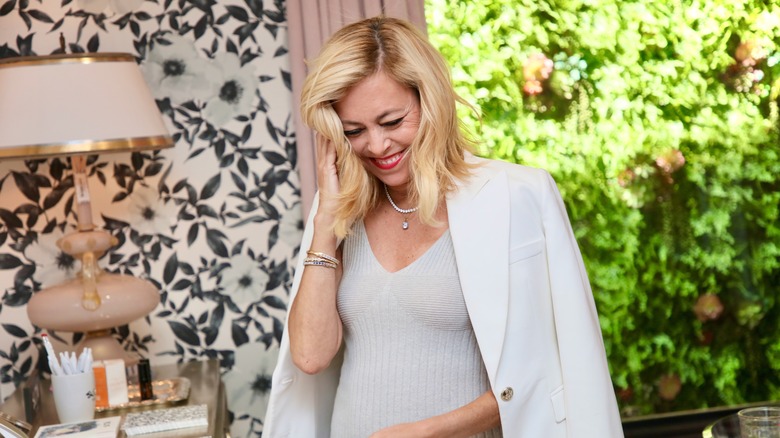 Robin L Marshall/Getty Images
Season 12 of "RHOBH" is only a few days away at this point, and the dire need for more intel is at an all-time high considering how fans last left the ladies. If the explosive trailer is anything to go by, the season is set to be a second round in the ring for Erika Jayne, per Bravo TV. With Garcelle Beauvais and Lisa Rinna's drama with Erika seemingly taking the main stage, fans were left curious about where Sutton Stracke and Erika stand today. 
While celebrating the launch of her capsule collection, Sutton spoke candidly to People about her and Erika's friendship during Season 12, "I think that Erika and I still have a lot of work to do," she continued, "I think it was, yet again, a very tumultuous ride." As for whether she feels Erika has answered all of the questions she sought out during Season 11 of "RHOBH," Sutton playfully teased that she "always [has] questions for Erika." 
Perhaps Erika was too preoccupied during Season 12 with her other battles to pay Sutton much attention since she seems pretty hopeful. "I enjoyed moments with Erika," Sutton looked back before ending on a positive note, "It was my hardest season and also probably my best learning curve season, but it's so explosive. We had so much fun and then so many fights and then so much fun and then fights. I call it the season of forgiveness."