Erika Jayne Makes It Very Clear Where She Stands With Garcelle Beauvais In Shocking Video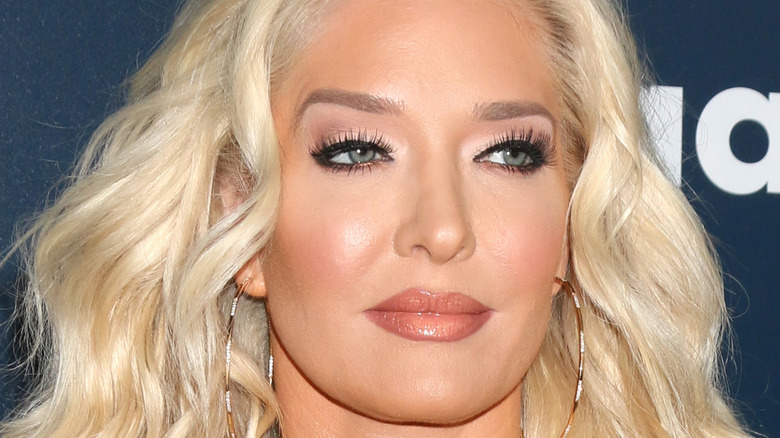 Kathy Hutchins/Shutterstock
Well, it looks like fans are in for yet another "The Real Housewives of Beverly Hills" season centered around the enigma that is Erika Jayne. You would think that after the chaotic, tumultuous past couple of years that she's had, that perhaps Jayne would be a little more preoccupied with what a judge has to say rather than her cast mates — not likely. 
The last season of "RHOBH" revolved entirely around Erika Jayne and ex-husband Tom Girardi's legal woes, from whether she knew about Girardi's fraudulent behavior or whether she was playing victim — it was all about the "Pretty Mess" singer's mess, per Slice. A year later, and her legal troubles are far from over with the latest story involving a $50 million racketeering lawsuit, per Page Six. Fans naturally expected the upcoming Season 12 to also revolve around the same never-ending saga, but these ladies are anything but predictable. 
Season 12 of "RHOBH"'s trailer officially dropped on Bravo TV, and fans got an insight to the explosive season ahead. Lisa Rinna gleefully grinned while pot-stirring, a new villain was introduced, and of course it wouldn't be a "RHOBH" trailer without Kyle Richards' jaw dropping on countless occasions. But it also looked like yet again Jayne was clashing with the entire cast, only this time it had a lot more to do with her drinking. But what seemed like a mere shady comment made by Garcelle Beauvais has seemingly escalated and ended up in the trash.
Erika tosses Garcelle's book in the trash
It was the meme that made its way around the entire internet. The tiny snippet of the "RHOBH" Season 12 trailer showed Erika Jayne and Garcelle Beauvais briefly getting into it. Jayne questioned Beauvais' motives when she showed concern for Jayne's drinking by asking, "Is that to make Erika look bad, or is that out of genuine concern?" To which Beauvais now infamously clapped back, "Erika, I don't have to make you look bad; you can do that on your own." 
While fans simply applauded Beauvais for the clapback and got even more excited for the upcoming season, it seems Jayne had some much darker feelings of her own. After Beauvais capitalized on the trending statement by promoting her book on Instagram with the playful caption, "You know how else you can look bad all on your own? By not pre-ordering your copy of #LoveMeAsIAm before it comes out on Tuesday." Jayne clearly didn't take it to well as she did some of her own Instagram posting, only a little less playful in nature. 
Jayne posted a quick clip to her Instagram story that showed Beauvais' book sitting in Jayne's trashcan with the caption, "@Garcelle, even though you unfollowed me I'm sure you'll see this," per Page Six. Real Housewives are infamous for their social media battling, but Jayne may have unnecessarily taken this joke too far. Fans were not here for it, one Tweet shared, "I rarely comment on this stuff but Erika is just petty and a wanna be 'bully.'"
What caused the fallout between Erika and Garcelle?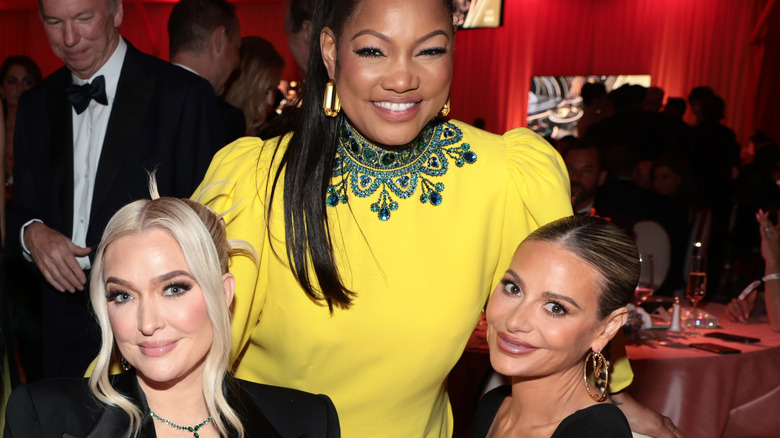 Jamie Mccarthy/Getty Images
Garcelle Beauvais and Erika Jayne have seemingly clashed ever since Season 11, when Beauvais shared a private story that Jayne had told her, and Jayne accused her of betraying her trust, per Bravo TV. The duo seemingly made up over the course of the season, despite not seeing eye to eye. However, the trailer for Season 12 made it clear that they were set to clash again. 
Building up to the upcoming season, news also broke of Beavais unfollowing Jayne on social media (as Jayne hinted at in her Instagram story above). Beauvais briefly addressed this on The Real by explaining, "All I can say is [that] she called me something that I did not like. And so therefore, when somebody offends you in a way, I don't want to see her posts, I don't want to put a little 'like.'" 
Regardless, after the Season 12 trailer dropped, Beauvais was questioned about their spat by Radar Online to which she actually defended Jayne by claiming, "She's going through — it's tough." The "Coming To America" actress added, "I mean, look at her life. To go from the highs to figuring all that stuff out ... I feel for her." So, no one could have expected things to spiral all the way into the trash, but only Season 12 will likely clear up why Jayne feels so much rage towards her.