The Heartbreaking Death Of Law & Order Actor Bruce MacVittie
"Law & Order" actor Bruce MacVittie has died at the age of 65. While audiences will most recently recognize MacVittie from his guest roles on "Law & Order: Special Victims Unit" and "Bull," the character actor was also beloved by theatergoers as well. According to The New York Times, MacVittie has appeared in several Off Broadway productions over the past four decades. In addition to his Off Broadway work, MacVittie also appeared in one Broadway show in 1983. He made his debut starring as Bobby in "American Buffalo" alongside Al Pacino after the original Bobby actor, James Hayden, died of a drug overdose (via Deadline). Pacino shared in an interview after hearing of his death, "I loved Bruce MacVittie. His performances were always glistening and crackling; a heart and a joy to watch. ... We will miss him."
MacVittie's wife, Carol Ochs, confirmed the news of his death on May 7, but the cause of his death has yet to be determined. After hearing of MacVittie's death, Warren Leight, the current showrunner of "Law & Order: Special Victims Unit," retweeted a press photo of the late actor in CBS' "The Equalizer" from 1986 and shared, "I met the great Bruce MacVittie shortly after this. We've worked together often. He was a beautiful, honest actor and man. The real deal. Sending love to his friends and family."
MacVittie often played 'tough guys'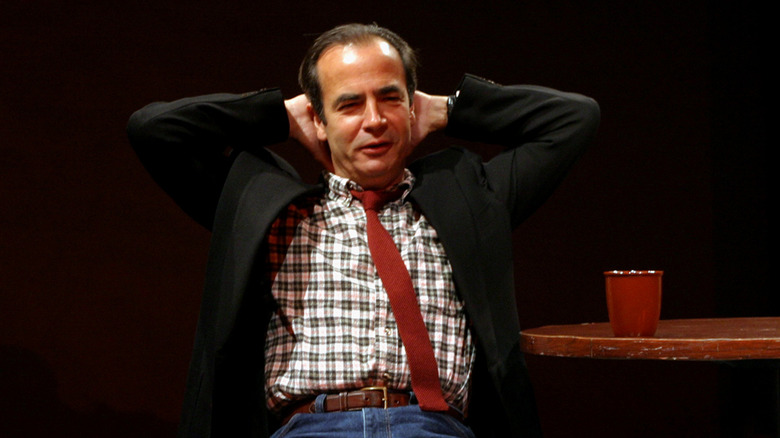 Hiroyuki Ito/Getty Images
Bruce MacVittie was not only a beloved TV and theater actor, but he was also one of the co-founders of the Naked Angels troupe in 1986. The New York troupe of actors, writers, directors, and producers was formed with the "intent on creating a creative home for rigorous new voices." Some of the other founding members of Naked Angeles include Matthew Broderick, Marisa Tomei, and Warren Leight. The New York Times described Naked Angeles as "a troupe of young film and theater hipsters," and even Edie Falco once said, "Naked Angels was the club that was too cool to let me in." 
A cool demeanor was what MacVittie had as the NYT reported that he often played "tough guys," which allowed him to excel in roles on TV shows like "The Sopranos" and "Law & Order." While MacVittie got his start in theater with a 1980 production of "What's So Beautiful About a Sunset Over Prairie Avenue?" at the Ensemble Studio Theater, he made his way to television in the '80s as well with guest roles on shows like "Barney Miller" and "Miami Vice." A hardworking actor, MacVittie continued to work consistently in film and TV until 2011 when he decided to switch gears and go to school for nursing. He received his degree in 2013 from Hunter College. 
However, MacVittie did make a return to acting towards the end of his life and appeared in TV shows like 2019's "When They See Us." Along with his wife, Carol Ochs, MacVittie is also survived by his daughter, Sophia Oliva Ochs MacVittie.