The Dress Kate Middleton Wore For Her Latest Royal Outing Is Giving Us Serious Deja Vu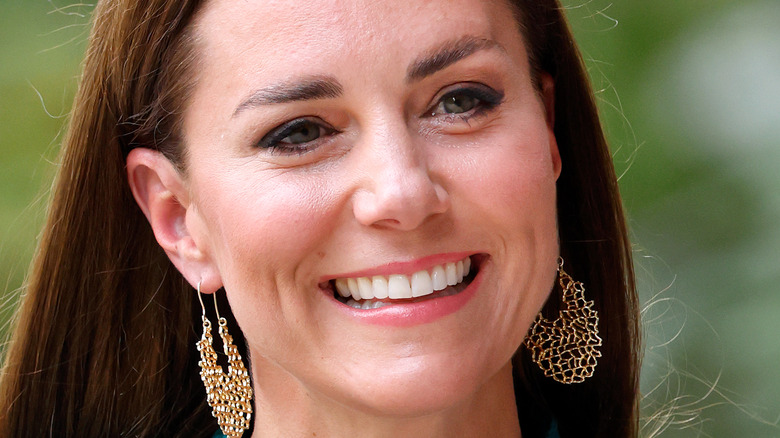 Max Mumby/indigo/Getty Images
Every time a member of the royal family steps out of the house (read: palace), all eyes are on them. That means that they spend a whole lot of money on their clothing. To put this in perspective, the royal family spends a whopping $2 million on clothing annually, according to Marie Claire. Even split between the entire royal family, that's a whole lot of money. What are they spending that money on, you ask? Well, according to Kate Middleton's recent clothing choices, her closet is filled with a whole lot of jackets. Oddly enough, they all look pretty similar.
It's no secret that Kate has incredible style. When she steps out in an outfit, it almost Instantly sells out. Whether it's a $30 ASOS dress or a $450 designer find, it honestly doesn't matter. Over time, she's seriously amped up her royal style. But one thing hasn't changed — her love for jackets. During her 11 years in the royal family, she's worn some stunning ones.
People can't stop talking about her recent styles, though. If you're wondering why they look oddly similar, it's because they are.
Kate Middleton wore her favorite jacket to the Royal Garden party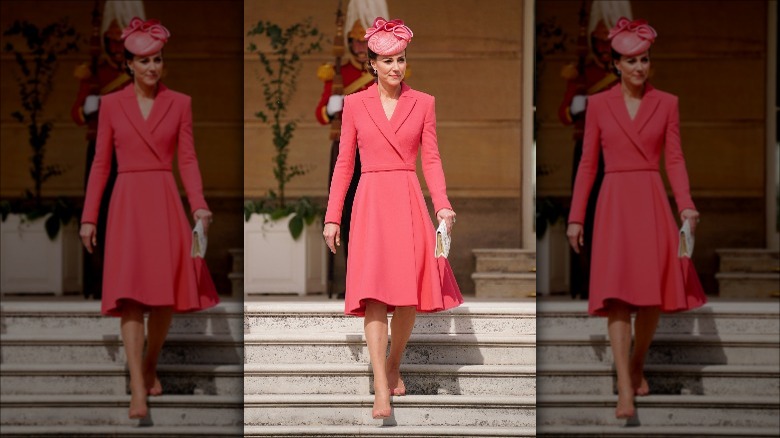 Wpa Pool/Getty Images
Next time you're wondering what to wear to a royal Garden Party, take note from this royal. Kate Middleton attended Queen Elizabeth's party wearing a stunning head-to-toe coral outfit. The coral coat dress and matching belt was accompanied by a matching fascinator and pumps to go with it. Fans of the Duchess of Cambridge's look noticed something odd about the dress though — this isn't the first time she's worn it. Okay, strike that. This isn't the first time she's worn it in that color.
Kate's favorite coat dress is designed by Emilia Wickstead, according to Page Six. While the exact dress isn't available online, a similar design from the brand shows a $1,300 price tag. People are rightfully assuming it's her favorite because she's also worn it in baby blue and evergreen as well. Because when you like a clothing item, you might as well buy it in all the colors.
The coat wasn't the most expensive item she wore though. According to Page Six, her square-cut earrings cost a whopping $1,700. She likely doesn't own them in multiple colors like the coat though.
The jacket looks great in every color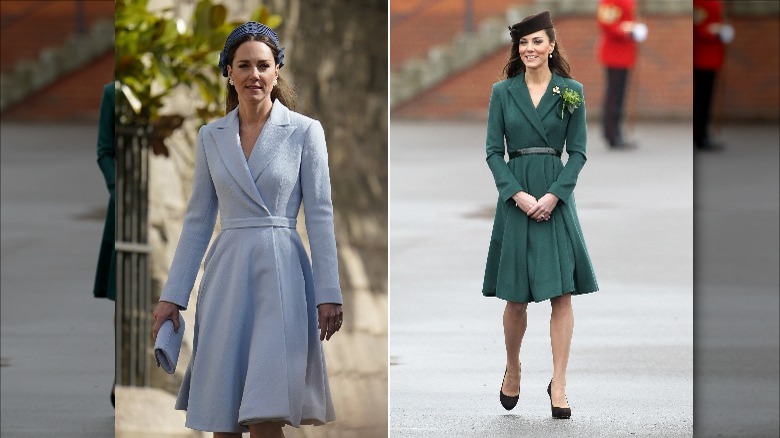 Wpa Pool & Chris Jackson/Getty
The royal family has tons of fashion rules that they have to follow. Their dresses need to be a modest length, and there is reportedly even a rule about only holding your purse in your left hand, per Cosmopolitan — you know, so the other hand is free to wave. So it only makes sense that when Kate Middleton found a style that she liked and it had the royal stamp of approval that she would buy it in all the colors that she could. 
Kate has worn the same exact Emilia Wickstead coat dress in both baby blue and green in the past. She wore the green dress on St. Patrick's Day back in 2012 and the baby blue design to church on Easter back in 2017, per Page Six. She wore hats and different colored shoes with every new color, but still looked equally as stunning each time. It's no secret that the Duchess of Cambridge likes this design. She sported a robin's egg blue dress by the designer during her recent trip to Jamaica this year, per Harper's Bazaar.
Needless to say, if you're wondering what Kate's closet looks like, you can just go ahead and scroll the Emilia Wickstead website.